Book World Has Landed at San Diego Comic-Con!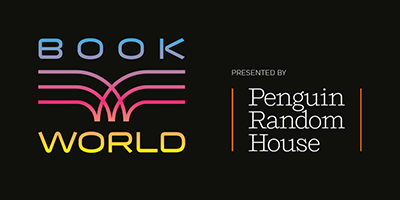 Book World Presented by Penguin Random House has officially kicked off at San Diego Comic–Con, using our full brand power to make a strong statement on the show floor, to attract attendees, and to become THE place for books at the show. As a consumer show that attracts 130K+ attendees each year, we will continue to position PRH as an author and brand–driven destination for readers. The Comic-Con audience is highly engaged, loyal to brands, and reads more than the average person, making this show the perfect place for us to sell and promote a wide range of books! 
Here is a sneak peek of what consumers can expect from Book World Presented by Penguin Random House: 
Author Appearances In-Booth

: Our booth will be filled this weekend with authors signing throughout the event, including

Pierce Brown

,

Erin A. Craig

,

Sammy Harkam

,

John Gallagher

,

Genevieve Gornichec

,

Silvia Moreno-Garcia

,

Lincoln Peirce

, audiobook narrator

Marc Thompson

, and more!

 

Too Big for the Booth:

Some authors are too popular to be on the show floor with us, but we are still so excited that they will be joining us!

Rachel Smythe

, author of LORE OLYMPUS, will be signing in the autographing area after her three panels. 

 

Con Edition:

Fans will have a chance to grab the con-exclusive edition of

STAR WARS: INQUISITOR: RISE OF THE RED BLADE

(

Random House Worlds

) by

Delilah S. Dawson

! All copies will be signed by the author and will come with an enamel red blade pin.

Audiobook Giveaway

: Each day, one hundred lucky attendees will receive a free audiobook with their purchase.

 

The biggest brands

: It's also a book! The most exciting, hot, brand titles, including universe expansions and retellings from the likes of Stranger Things, Star Wars, Critical Role, Dungeons and Dragons, Lore Olympus, Marvel, Little Golden Books, Game of Thrones, and more!

 

Giveaways

: Fans can look forward to exciting giveaways, including copies of

Jim Butcher

's

THE AERONAUT'S WINDLASS

(

ROC

), and advance copies of

Emily Skrutskie

's

THE SALVATION GAMBIT

(

Del Rey

)

,

Cassandra Clare

's

SWORD CATCHER

(

Del Rey

)

,

Lauren J.A. Bear

's

MEDUSA'S SISTER

(

Ace

), and more. There will be fun swag available, as always, including an origami craft kit and bookmarks.

Personalized Book Recommendations

: Attendees get one-on-one book recommendations from our expert staff, but they can also visit Del Rey's

The Book Oracle

for inspiration for their next read!

 

Pronoun Buttons

: Back by popular demand, pronoun buttons will be available at our booth in order to create a safe, welcoming, and inclusive environment. Attendees will also have an option to snag an "I Read" button with multiple genre options. 

 

Book Sales

: We are partnering with San Diego-based bookstore Mysterious Galaxy for all in-booth book sales. We are thrilled to offer early-on-sale copies of

THE COMPLETE PERSEPOLIS 20th Anniversary Edition

(

Pantheon

),

THE WEAVER AND THE WITCH QUEEN

, (

Ace

)

HOUSE OF ROOTS AND RUIN

(

Random House Children's

), and

LIGHT BRINGER

(

Del Rey

), in addition to signed copies of several titles, including

MAUS

(

Pantheon

) and

BREAKDOWNS

(

Pantheon

).

 
Don't miss out on the latest happenings and exclusive insights from SDCC! Stay connected by checking OurHouse for updates. Be sure to keep tabs on the social accounts of Star Wars Books, Del Rey, Pantheon, and others to get even more exciting updates on SDCC.
San Diego Comic Con is a four-day event, spanning Thursday July 20 to Sunday July 23, with a special preview night which took place last night on Wednesday, July 19.
Visit PRHBookWorld.com for full details! 
Posted: July 20, 2023