BOOK YOUR SUMMER LIVE, A New PRH Virtual Book Festival, Coming August 21-22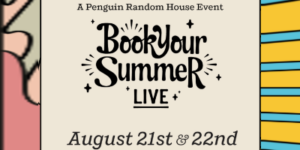 The cross-divisional Consumer Conferences team brings our readers the virtual event of the season, BOOK YOUR SUMMER LIVE, on August 21-22. Book Your Summer Live is a Penguin Random House virtual book festival celebrating our authors, illustrators, retail partners, and readers alike.
The event will target the general book market and provide content for readers of all ages. Featured authors include Renee Ahdieh (The Damned), Alexis Henderson (The Year of the Witching), Sammi LaBue (Words in Progress), Megha Majumdar (A Burning), Josh Malerman (Malorie), Karen McManus (The Cousins) , Dr. Lee Mellor (Behind the Horror), Kim Johnson (This is My America), Nnedi Okorafor (Ikenga), Riley Sager (Home Before Dark), Tom Scioli (Jack Kirby), and Ann and Jeff VanderMeer (Big Book of Modern Fantasy).
Here are the details:
Book Your Summer Live
A Penguin Random House Virtual Event
Friday, August 21-Saturday, August 22
The virtual event will include:
Live and pre-recorded panels with Eventbrite Registration, hosted on Zoom and YouTube, with ASL interpreters
After-Hours Marquee events
Retail partners (more details to come) and an Out of Print event-curated store
Pre-recorded readings
Sweepstakes
Reddit AMAs (Ask Me Anything)
Downloadable freebies, including excerpts and activities
Artist spotlights
A live Twitter Info Desk
Premiere of the "Book Your Fall" sizzle reel
PRH lead generation
…and more!
As the virtual landscape continues to evolve, our team is hard at work to develop an exceptional experience that will bring our creators and attendees together while being apart. The event is taking shape and developing daily. The Book Your Summer Live website will be updated with details, schedules, and more as we get closer to the event. If you have any specific questions, please reach out to your divisional representatives:
You can sign-up for alerts, updates, and information at www.bookyoursummerlive.com.
A special thank you to the Corporate Video Team and the Consumer Marketing Team, who are leading the Book Your Summer campaign, for lending this group the creative direction and support. Please note that the virtual event will focus on a separate list of creators and content than the corporate campaign while championing the same love of reading during the summer season.
Posted: August 3, 2020