Books for Consumer Needs: Wellness and Anxiety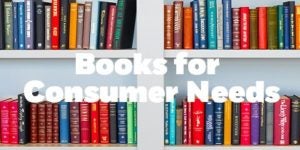 As everyone navigates these unprecedented times (both our community at Penguin Random House and the readers we serve), many are turning to books as a source of solace and guidance in the midst of chaos. In fact, according to insights from our own Penguin Random House Reader Insight Circle, 74% of readers deem books "essential" during these times (Consumer Marketing Insights). While consumer needs are continuously shifting to reflect the world's rapidly changing circumstances, our books can aid them in adjusting to their new realities.
As such, our own Consumer Marketing Insights team is tracking these and curating a weekly report; you can review them here. These insights help us better understand how we can continue to connect our books to readers to these acutely felt and continually evolving needs as the world changes around us all. Included in the reports are a selection of book recommendations to help provide focus across the organization as we market, sell, and publicize our books. Whether you're innovating new ways to connect with readers via virtual events or working collaboratively with a bookseller to navigate this crisis, these insights should be used to clarify opportunity spaces that meet consumer needs. We're providing a platform on Igloo to highlight one of the recent trends below:
Books to Help with Mental Health and Anxiety
Naturally, managing stress, anxiety, and practicing coping mechanisms can be especially difficult during this crisis. Our country was already in the midst of a "mental health" crisis at the time of this outbreak. "This week saw overwhelming negative sentiment reflected in community conversations, with 'angry' replacing 'overwhelmed' and 'depressed' in our emotional topic wheel" (Ipsos). According to data from a Kaiser Family Foundation poll almost half of Americans agree their mental health is suffering due to Covid-19. Additionally, emergency hotlines saw a 1,000% increase compared to April 2019, according to the Substance Abuse and Mental Health Services Administration (Washington Post).
From the books included in the report, the Igloo team has created this shareable reading list of some titles that can help people navigate their mental health and well-being during this crisis.
A CALM BRAIN: How To Relax Into A Stress-Free, High-Powered Life by Gayatri Devi
In a world filled with too many choices, oppressive technology, and relentlessly overbooked schedules—how do we achieve the calm we so desperately need? If you are suffering from migraines, neck pain, gastrointestinal upsets, sleeps deprivation—or just trying to work through life's difficulties—Dr. Devi shows that you don't need drugs, you need A Calm Brain.
OUTER ORDER, INNER CALM: Declutter And Organize To Make More Room For Happiness by Gretchen Rubin
In this lovely, easy-to-use illustrated guide to decluttering, the beloved author of The Happiness Project shows us how to take control of our stuff—and, by extension, our lives. Gretchen Rubin knows firsthand that creating order can make our lives happier, healthier, more productive, and more creative. When we tailor our approach to suit our own particular challenges and habits, we can find inner calm.
MY AGE OF ANXIETY: Fear, Hope, Dread, And The Search For Peace Of Mind by Scott Stossel
Drawing on his own longstanding battle with anxiety, Scott Stossel presents a moving and revelatory account of a condition that affects some 40 million Americans. We discover the well-known who have struggled with the condition, as well as the afflicted generations of Stossel's own family. Stossel offers an intimate and authoritative history of efforts by scientists, philosophers, and writers to understand anxiety.
ANXIETY RELIEF FOR TEENS: Essential Cbt Skills And Mindfulness Practices To Overcome Anxiety And Stress by Regine Galanti, PhD
Is anxiety disrupting your life? With proven CBT-based skills and mindfulness techniques, this book can be your guide out of the spiraling stress of anxiety and get you back on track to living a happy and healthy life. Getting good grades, keeping up with social media, maintaining friendships… you have a lot on your plate, don't add anxiety to the mix.
THE ANXIETY JOURNAL: Exercises To Soothe Stress And Eliminate Anxiety Wherever You Are, A Guided Journal by Corinne Sweet
Relieve stress, increase mindfulness, and discover calm and clarity wherever you go with this beautiful guided journal. A fluttering in the chest, constant worrying, sleepless nights with your breath squeezed from you. One in four people suffer from anxiety, and the symptoms can feel overwhelming. But you can take control. Practical and uplifting, the perfect size to carry around with you.
CALM CLARITY: How To Use Science To Rewire Your Brain For Greater Wisdom, Fulfillment, And Joy by Due Quach
Due Quach shares her Calm Clarity program to show readers how to deal with toxic stress and adversity. We often don't realize how much control we have over our thoughts, feelings, and actions–on some days, the most minor irritation can upset us, but on others, we are in our best form and can rise to challenges with grace.
BE MINDFUL AND STRESS LESS: 50 Ways To Deal With Your (Crazy) Life by Gina Biegel
Simple mindfulness practices for teens that build self-esteem, grow compassion, and reduce stress. The demands and pressures of everyday life can really stress you out! School, work, relationships, social media, and the like can leave you pulled in so many directions it can make your head spin. When you need help fast, these simple accessible mindfulness-based practices will help bring you relief and ease right away.
365 WAYS TO BEAT STRESS: How To Relax & Find Perfect Calm by Adam Gordon
No other book offers so many easy-to-use and diverse stress-relief techniques in a uniquely attractive gift package. With a different technique or tip for each day of the year, no other book offers such a wide range of ways to release stress and anxiety, all set in an attractive illustrated design that will make dipping in for inspiration a joy.
STRESS MANAGEMENT: A Comprehensive Guide To Wellness by Edward A. Charlesworth and Ronald G. Nathan
Are you among the 95 million Americans who suffer from stress during these trying times? Revised and comprehensive, this invaluable guide helps you identify the specific areas of stress in your life–familial, work-related, social, emotional–and offers proven techniques for dealing with every one of them."Witty, relaxed yet disarmingly effective." says West Coast Book Reviews, "extremely readable, the contents support the title."
TECH STRESS: How Technology Is Hijacking Our Lives, Strategies For Coping, And Pragmatic Ergonomics by Erik Peper, Ph.D., Richard Harvey Ph.D. and Nancy Faass MSW
We've evolved to be drawn to the instant gratification, constant connectivity, and shiny lights, beeps, and sounds of our ever-present smartphones, laptops, and other devices. An evolutionary approach to re-envisioning our relationship with technology–and reclaiming health, happiness, and sanity in a plugged-in world.
INSTANT CALM: 2-Minute Meditations To Create A Lifetime Of Happy by Karen Salmansohn
Lifestyle guru Karen Salmansohn presents a colorful gift book of two-minute meditations and mindfulness tips that help reduce stress and improve focus, clarity, productivity, and sleep. You're just a few minutes away from a more Zen mindset!
* * *
Posted: May 27, 2020