Brad Meltzer and Chris Eliopoulos Introduce the Latest Additions to the "Ordinary People Change the World" Book Series via Zoom (10/14)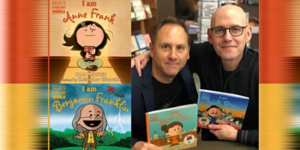 Join Brad Meltzer and Chris Eliopoulos, the author/illustrator team behind the New York Times bestselling picture book biography series, Ordinary People Change the World, as they introduce the latest additions to the collection: I AM ANNE FRANK and I AM BENJAMIN FRANKLIN, both published by Dial Books for Young Readers. Eliopoulos will demonstrate his art style throughout the discussion at this virtual event hosted by Politics & Prose via Zoom on Wednesday, October 14 at 7:00 pm (ET).
I AM ANNE FRANK, the first book in the series to focus on a child, is of special significance to Meltzer, who wrote, "The rise of Anti-Semitism…the way religious, ethnic and racial minorities are regularly targeted…it's impossible to ignore – and I want my kids to see and find strength from Anne Frank's lessons. I am proud of my Jewish heritage, and Anne Frank's incredible story is one I'm honored to share with readers everywhere."
I AM BENJAMIN FRANKLIN is perfect for election season and talking to children about science and inventions. Franklin was one of the Founding Fathers of the U.S. who helped draft the Declaration of Independence while making important scientific contributions.
Brad Meltzer is the author of the New York Times bestselling Ordinary People Change the World series for children, as well as six New York Times bestselling thrillers for adults. He is also the #1 bestselling author of the critically acclaimed comic books Identity Crisis and Justice League of America, and is the cocreator of the TV series Jack & Bobby. A graduate of the University of Michigan and Columbia Law School, he lives in Florida.
Christopher Eliopoulos began his illustration career at Marvel Comics, and has worked on thousands of comics, including Cosmic Commandos, Monster Mayhem, Franklin Richards: Son of a Genius, Pet Avengers, Cow Boy, and his first picture book The Yawns Are Coming! He lives in New Jersey.
!! As a reminder, if you are posting to a personal or other non-PRH account you must include the hashtag #TeamPRH !!
Posted: October 12, 2020