Brian Kilmeade Presents "Heroes and History" via Instagram (6/10)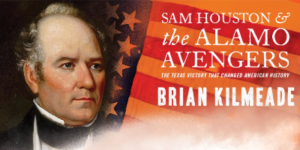 Join the "Heroes and History" Instagram Live series with Brian Kilmeade, author, most recently, of SAM HOUSTON AND THE ALAMO AVENGERS (Sentinel), and post questions to Kilmeade with the hashtag #HeroesandHistory via Instagram on Wednesday, June 10, from 12:30 to 1:00pm (ET).
SAM HOUSTON AND THE ALAMO AVENGERS recaptures this pivotal war that changed America forever, and sheds light on the tightrope all war heroes walk between courage and calculation. Thanks to Kilmeade's storytelling, a new generation of readers will remember the Alamo—and recognize the lesser known heroes who snatched victory from the jaws of defeat.
Kilmeade is also the coauthor of George Washington's Secret Six, Thomas Jefferson and the Tripoli Pirates, and Andrew Jackson and the Miracle of New Orleans, all New York Times bestsellers. Kilmeade cohosts Fox News Channel's morning show "Fox & Friends" and hosts the daily national radio show, The Brian Kilmeade Show. He lives on Long Island.
!! As a reminder, if you are a PRH employee posting to a personal or other non-PRH account, you must include the hashtag #TeamPRH !! 
Posted: June 9, 2020