Brightly Launches "Reading Through It Together," Penguin Kids Debuts LIVE Story Time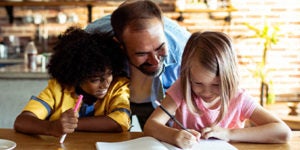 Brightly, our website dedicated to helping parents and educators find books and reading tips for every age and stage of a child's life, has launched a new portal, Reading Through It Together, as Penguin Kids debuts LIVE Story Time Read Aloud, hosted online across Penguin Kids' Instagram and Facebook pages.
With so many young readers home from school and parents looking for ways to keep their kids learning during the Coronavirus outbreak, the Reading Through It Together portal collects educational content, fun activities, video (where applicable) and teaching guides, curated by age and stage, for our Brightly audience to provide help as consumers transition distance learning. In addition, a new Brightly Storytime video airs each weekday, Monday through Friday at 2:00 pm (ET) on IGTV. This series kicked off March 17 with a timely St. Patrick's Day Storytime.
To enjoy Penguin Kids' LIVE Story Time Read Aloud, parents and children can tune in weekday mornings on Instagram, 11:00 am (EST) and Facebook, 11:15 am (EST).
The LIVE Story Time Read Aloud schedule for the rest of this week is below:
Thursday (3/19):

Little Owl's Day

Friday (3/20):

The Very Hungry Caterpillar
Check back on Igloo more updates.
Posted: March 19, 2020