Brightly Storytime Passes 100,000 Subscribers on YouTube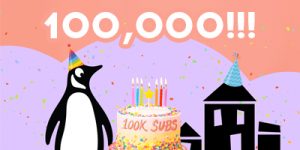 Brightly Storytime, the YouTube channel of ReadBrightly.com that features video read-alongs of PRH picture books, passed 100,000 subscribers earlier this month. This puts it in approximately the top .61% of all YouTube channels. To celebrate, we emailed questions to Charlotte Lesnick, the video producer in Consumer Marketing who manages all Brightly Storytime content.
Congratulations on 100k YouTube subscribers! What's the secret to the channel's success?
Thank you! I think the biggest factor to the channel's success is the support we've received across the divisional and Brightly teams. We saw a lot of growth because of remote schooling last year, but that wouldn't have been possible without the groundwork we've been laying for years with dozens of people. The marketing groups of the various divisions we work with help with title selections and approvals, and we truly could not do it without them. It's also hugely helpful that we're integrated with ReadBrightly.com, which acts as a key promotional lever.
How has the channel evolved since it was created in 2016?
We definitely make a LOT more content than we did at the start of the channel. Beyond our monthly storytime videos with Ms. Linda, we also produce flip-alongs weekly and occasional author storytimes. In the past few months, we've also been doing some fun animated educational videos with DK. We're pretty much always down to try new formats and work with new groups—my inbox is always open to people looking to work together!
Has anyone ever actually met Ms. Linda?
Ms. Linda herself resides in a special storytime dimension inaccessible to mortals, but the actress Lynn Craig is a constant delight to work with.
The people want to know: Where does Brightly Storytime go from here?
Recently we've been working with Rachael Perriello to explore licensing opportunities for our content, and we have some exciting streaming deals coming together. Beyond that, continuing to grow our audience is always on the forefront. We recently had our first ever virtual live event hosted by Ms. Linda and featured authors doing live readings, which was super fun and a great way to interact directly with our viewers. That's definitely another angle we're interested in continuing to explore.
Posted: July 7, 2021