Brightly's Summer Reading Portal is Live!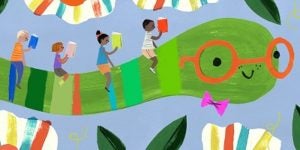 Brightly, our website dedicated to helping parents, caregivers, and educators find books and reading tips for every age and stage of a child's life, has launched a summer reading portal, featuring book lists and a summer reading challenge. Though this summer looks very different from most, kids can continue reading and having fun with our Summer Reading Bingo game — which encourages kids and teens to expand their reading horizons with prompts like "read a book about activism" and "read a book set in the past."
The latter half of this past school year was challenging for most kids, so included in Brightly's summer reading portal are tips to prevent learning loss and activities to make sure kids stay entertained. From learning games for car trips to boredom-busting activity books, there's something to keep every child and teen engaged throughout the summer and beyond.
View Brightly's summer reading lists, learning loss tips, and activities for summer fun here.
Download Brightly's Summer Reading Bingo card here.
Posted: July 14, 2020