Bring French Cuisine Into Your Kitchen with Melissa Clark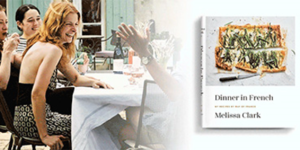 Our new Igloo Book Buzz selection is here, and it's a delicious one. This week, we're celebrating DINNER IN FRENCH, published by Clarkson Potter. In this cookbook, New York Times star food columnist Melissa Clark breaks down the new French classics with 150 recipes that reflect a modern yet distinctly French sensibility. Just as Julia Child brought French cooking to twentieth-century America, Melissa Clark brings French cooking into the twenty-first century.
Melissa first fell in love with France and French food as a child. Her parents spent their August vacations traversing the country in search of the best meals with her and her sister in tow. Near to her heart, France is where Melissa's family learned to cook and eat. And as her own culinary identity blossomed, so too did her understanding of why French food is beloved by Americans.
As part of her book introduction, Clark writes: "That merging of classic French cuisine and the food I grew up eating in Brooklyn is the foundation of how I approach cooking—and the raison d'être of this book. To me, the cuisines are not two distinct things, but seamlessly intertwined into a glorious whole, because I learned about them at the same time. Yes, we waited in line for Di Fara's pizza, Lundy's clams, and chicken feet and tripe at our favorite dim sum palace. And we also spent countless weekends fussing over Julia Child's terrines and Jacques Pépin's coq au vin, which my mother might slather on leftover challah, and my dad might spike with soy sauce (sorry, Jacques). It wasn't irreverence so much as an intense culinary curiosity, a playful exploration of the delicious. All of these influences are so essential to the way I think about food that they're the touchstones of every recipe I create…At our house, the conversation might be in English, but dinner's in French."
Today, March 16 at 1 pm EST, Melissa will be doing a Live Signing and answering fan questions. Please tune in and ask her anything!
As part of our campaign, Melissa Clark put together a bonus PDF with her favorite Paris haunts, from coffee and pastries to lunch and dinner to shopping, sightseeing, and more! It's also filled with behind-the-scenes photos, you'll have everything you need to visit Paris like a pro (in person or from your couch!). Download your PDF here.
And even if you're not planning a trip to Paris, you can still bring a little bit of France into your home with this chocolate cake recipe from DINNER IN FRENCH!
FEATURED RECIPE
French Rye-Chocolate Cake with Spiced Crème Anglaise
Makes 12 small rich servings
With a texture that falls somewhere between a chocolate truffle and a fudgy brownie, French chocolate cakes are about as dark, dense, and decadent as desserts get. This one has a small amount of rye flour mixed into the batter, which gives the cake an appealing earthiness. I like to pair very small slices with a crème anglaise infused with ginger, pepper, cloves, and nutmeg. But if you'd rather not make the crème anglaise, the cake is also excellent served with whipped cream that has been lightly sweetened with a little maple syrup or maple sugar.
FOR THE CAKE
12 tablespoons (1½ sticks / 170 grams) unsalted butter, cubed, plus more for the pan
Unsweetened cocoa powder, as needed, for the pan
12 ounces (340 grams) bittersweet chocolate, chopped
1 cup (200 grams) sugar
¹⁄8 teaspoon fine sea salt
5 large eggs, whites and yolks separated
1/3 cup (43 grams) rye flour
FOR THE CRÈME ANGLAISE
5 large egg yolks
½ cup (100 grams) sugar
1 cup (240 milliliters) heavy cream
1 cup (240 milliliters) whole milk
½ teaspoon ground ginger
¼ teaspoon freshly ground white pepper
¼ teaspoon ground cloves
¼ teaspoon freshly grated nutmeg
Pinch of fine sea salt
DIRECTIONS
Bake the cake: Heat the oven to 350°F. Butter a 9-inch springform pan, and dust the bottom and sides with cocoa powder, tapping out the excess. Wrap the outside of the pan tightly in two layers of foil, to make sure the water doesn't seep into the pan.
In a large microwave-safe bowl, melt the chocolate and the butter together in 30-second bursts in the microwave, stirring in between, until just melted (or do this in a pot on the stove over low heat). Stir in the sugar and salt, whisking until the mixture is no longer hot. Stir in the egg yolks until smooth, then stir in the flour.
In the bowl of an electric mixer fitted with the whisk attachment, beat the egg whites to form stiff peaks. Carefully and gently fold one-third of the whites into the chocolate mixture to lighten it, then fold in the remaining egg whites. Take your time with this so you don't deflate the whites; a few white streaks in the batter are okay. Scrape the batter into the prepared springform pan, then set the pan into a large roasting pan.
Fill the roasting pan with enough hot tap water to reach halfway up the springform's sides. Bake until the cake is just set, with firm sides and a slight jiggle in the center, about 60 minutes. Transfer the pan to a wire rack to cool.
Make the crème anglaise: In a medium bowl, whisk together the egg yolks and sugar. In a medium pot, bring the cream, milk, ginger, white pepper, cloves, nutmeg, and salt to a simmer over medium heat. Remove the pan from the heat.
Pour a little of the hot cream mixture in a thin steady stream into the yolks, whisking continuously, then scrape the yolk-cream mixture back into the pot. Return the pot to medium heat and cook, stirring constantly, until the custard has thickened enough to coat the back of a spoon, about 5 minutes. Strain the mixture to remove any cooked bits of yolk, and let the crème anglaise cool.
To serve, run a butter knife around the inner edge of the pan to loosen the cake, then release the sides. Slice the cake and serve it with the crème anglaise.
THINKING AHEAD
Cake: The cake can be made up to 5 days in advance and stored, well wrapped in plastic wrap, in the refrigerator. You can serve it cold and fudgy, or let it come to room temperature, when it will be a bit softer.
Creme anglaise: After it cools, you can cover the crème anglaise with plastic wrap pressed directly onto its surface, and chill it for up to 1 week. Note that it thickens after chilling, so if you want a thicker custard, plan ahead.
Posted: March 16, 2020