Bringing Books to Kids in Need: Penguin Random House Leads the Way in Partnership with PBS and First Book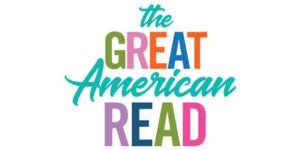 First Book and PBS have announced a partnership to distribute more than 350,000 brand new books to children in need through local PBS stations embedded in communities across the U.S., as part of The Great American Read. Penguin Random House was the first publisher to commit to this campaign as we continue to reinforce our leadership position in connecting our authors and books with readers everywhere. The Great American Read is a 9-hour, 8-episode PBS documentary series and public service campaign that explores and celebrates the power of reading, told through the prism of 100 best-loved books (as chosen in a nationally-representative survey). Penguin Random House imprints publish 59 of the 100 titles on The Great American Read list.
"It is vital that children have access to books in order to succeed: in their homes, in their schools, and in the community programs that serve them," said Kyle Zimmer, President, CEO, and co-founder of First Book. "Thanks to PBS and the generosity of our friends at Penguin Random House, Simon & Schuster, and Hachette Book Group, we have an opportunity to reach more of the 32 million children – 44 percent of our nation's young people – who are growing up in low-income families where books are scarce. We know that education offers children in need the best possible path out of poverty. We're so grateful to these partners for joining us in this critical work."
The books will be available to nearly 350 PBS member stations through October 31.
"PBS is proud to partner with First Book, Penguin Random House, Simon & Schuster, and Hachette Book Group to bring these invaluable resources to at-risk communities across the country under the banner of The Great American Read," said Bill Gardner, Vice President of Programming & Development for PBS. "Instilling an early love of reading has lifelong benefits, and we hope that through this donation, children all around the country will discover that simple pleasure and embark on a path to becoming lifelong readers."
The Great American Read launched with a two-hour special event on Tuesday, May 22, with the Fall Kick-Off" episode premiering on September 11, and continuing on PBS stations every Tuesday at 8:00 p.m. (ET). The nominated books are being explored through themes including "Heroes," "Villains & Monsters," "Who Am I?," "What We Do for Love" and "Other Worlds." Viewers are able to vote for their favorite titles online at pbs.org/greatamericanread, through hashtag voting via Facebook and Twitter, and through SMS texting to 97979, using the dedicated book hashtags that can be found here. The hashtags for the books published by Penguin Random House can be found here. All Penguin Random House colleagues are encouraged to participate. Public voting will continue until October 18 at 12:00 midnight (PT), leading up to the "Grand Finale," airing on October 23, when America's Best-Loved Book will be announced.
Posted: September 20, 2018