Bringing Books to Kids in Need: The Invaluable Role of Our Warehouses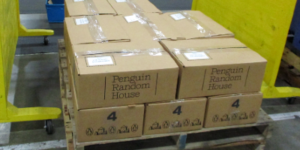 As the pandemic continues to surge across the country with millions of students still attending school virtually, helping children get access to books is more important than ever. At Penguin Random House, we're committed to nurturing the next generation of readers and writers through our partnerships with organizations that bring books and literacy skills to young readers in need. And in support of this commitment, each year we donate millions of our books to schools and programs worldwide.
None of these donations would be possible without our incredible distribution colleagues at our four warehouses. Because of their invaluable support, we've been able to continue to get our books into the hands of children and families in need during this difficult time. A huge thank you to each and every one of our warehouse colleagues for all of the work you do behind the scenes to make these programs possible and to reach kids in underserved communities across the country.
Here are two examples of recent donations made possible thanks to our warehouse:
As a sponsor of the Black Caucus of the American Library Association's (BCALA) virtual event, Plant a Book, Grow a Reader, we donated children books including works by Max Brallier, Douglas Holgate, Patrick Ness and James Dashner to nearly 80 early literacy centers nationwide in predominantly African American communities. The Black Caucus of the American Library Association (BCALA) promotes nationwide awareness and use of children's and young adult literature through programming, publications, and outreach activities among librarians, parents, scholars, students, educators, and all persons who work with children of African descent. BCALA is a vital resource to promote reading and emergent literacy to African-American communities.
PRH also donated books to our long-time partner Reading is Fundamental (RIF), the nation's largest nonprofit children's literacy organization. We provided 500 books to support RIF's championing children's literacy in addition to providing a capacity building grant to help ensure all children have access to books, whether they are in the classroom or learning remotely. We were part of the community who helped RIF get out over 91,000 books this past summer in response to COVID-related requests. RIF believes every child deserves an opportunity to own books, learn how to read, and obtain the fundamental building blocks to achieve their highest potential.
Visit our social impact site for more on our partnerships and programs that bring books to communities in need around the world and celebrate the joy of reading.
Posted: February 9, 2021