Bringing THE 1619 PROJECT Into Classrooms: A Unique Collaboration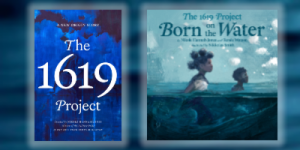 Today marks the publication of THE 1619 PROJECT: A New Origin Story, a dramatic expansion of the landmark "1619 Project" issue of The New York Times Magazine, and THE 1619 PROJECT: Born on the Water, a lyrical picture book in verse co-authored by Nikole Hannah-Jones and Renée Watson, illustrated by Nikkolas Smith.
Over the summer and into the fall, the Penguin Random House Education department partnered closely with One World, Kokila, and the Penguin Young Readers School & Library teams in collaboration with The New York Times Magazine and the Pulitzer Center—whose mission is to raise awareness of under-reported global issues through direct support for quality journalism—to promote the use of these books at all levels of education while equipping educators with resources they will need to help adopt and teach one or both books.
TIMELINE
In late August, PRH Education and the Pulitzer Center launched the 1619 Project Education Pilot Program, an unprecedented initiative through which thirty-five educators were provided with advance copies of both books to use in their classrooms this fall. Participants were selected from PRH Education's teacher advisory boards and the Pulitzer Center's 1619 Project Education Network and represent all levels of education, from elementary school through higher education. As the very first educators to teach these books, they were tasked with developing lesson plans around one or both books and providing a written or video reflection on their experience bringing the 1619 Project into their curriculum.
The pilot launched with a virtual kick-off event on Monday, August 30th, featuring Nikole Hannah-Jones, the creator and principal author of the 1619 Project, as a guest speaker alongside presentations from educators who have incorporated the original "1619 Project" issue of The New York Times Magazine in their classrooms in creative and compelling ways. A second virtual event for pilot participants was held on Thursday, October 28, featuring Born on the Water co-author Renée Watson and illustrator Nikkolas Smith in conversation with Namrata Tripathi, VP & Publisher, Kokila.
THE EDUCATOR RESPONSE
The response from the pilot participants has been overwhelmingly positive. Abigail Henry, African American history teacher at Mastery Charter Schools, wrote, "I have been teaching African American history for ten years, and I feel like it's finally this year I am teaching African American history appropriately in a way that meets the needs and demands of my students." Dr. Noreen Naseem Rodríguez, Assistant Professor at the University of Colorado Boulder School of Education, who used Born on the Water with her class of pre-service teachers, added, "The captivating images and powerful prose offer educators a rare opportunity to teach young learners about life before, during, and after slavery in ways that don't insist on deceptively happy endings or superficial attention to racism and oppression."
SUPPORT & RESOURCES
PRH Education and Penguin Young Readers School & Library have also developed free online curricular materials to be available upon publication. Working with Dr. Amanda E. Vickery, Associate Professor of Social Studies and Anti-Racist Education at the University of North Texas, they produced a teacher's guide for The 1619 Project: A New Origin Story for classroom implementation at the high school level. Also available is a PreK-12 Curriculum Guide for both books, produced in partnership the Pulitzer Center for use by administrators, curriculum development specialists, and other high-level decision makers across grade levels. These resources, along with a single-title guide for Born on the Water created by the Penguin Young Readers School & Library team, can be found on the PRH Education website and at 1619books.com.
On the creation of the curriculum guide, Donnalie Jamnah, K-12 Partnerships Manager for the Pulitzer Center's education team, said, "For me, working on this guide really helped reframe my understanding of the 1619 Project and the ways the books add depth and new opportunities for teaching and instruction. I've been a classroom teacher working to convince my administration and curriculum specialist that the books and other items I was requesting really would have meaningful impact for students and the opportunity to hopefully make that process easier for educators who are interested in teaching 1619 has brought me true joy."
LOOKING FORWARD
On facilitating these initiatives, Allan Spencer, Marketing Manager, PRH Education, said, "The 1619 Project has already been such a valuable educational tool in countless classrooms, and the publication of these books represents an even greater opportunity to engage students of all grade levels and across disciplines with Black Americans' vital contributions to history, literature, and civic life in the U.S. PRH Education's mission is to foster a universal passion for reading to inform, educate, and inspire, and it's a privilege to share with educators and students these powerful books, which align so exactly with that mission."
Posted: November 16, 2021