Bryant Terry To Launch 4 Color Books Imprint With Ten Speed Press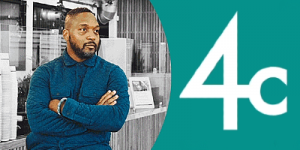 Ten Speed Press, an imprint of Random House, has announced the launch of a new publishing imprint with NAACP Image and James Beard award-winning author, educator, chef, and activist Bryant Terry. The new imprint, called 4 Color Books, will collaborate with the most forward-thinking and groundbreaking BIPOC chefs, writers, artists, activists, and innovators to craft visually stunning nonfiction books that inspire readers and give rise to a more healthy, just, and sustainable world for all. As Editor-in-Chief, Terry will acquire and edit two to three titles per year on a variety of lifestyle topics to include food, art, culture, wellness, and self-care, collaborating with Kelly Snowden, Ten Speed's Editorial Director, acquiring titles in Food, Beverage, & Wellness areas.
4 Color Books is inspired by Terry's lifelong community-organizing work as well as his tenure as chef-in-residence at the Museum of the African Diaspora (MoAD), where public programming focuses on the intersection of food, art, culture, and the African Diaspora. Driven by a desire to diversify the book publishing industry, Terry will cultivate a community of BIPOC authors, designers, illustrators, and photographers, that will inject the imprint with a dynamic and necessary perspective.
"Books, whether my own or others, have been an incredibly important and transformative part of my life, helping to expand my mind and nourish my body," said Terry. "4 Color Books will amplify my ability to connect readers with new ideas, stories, and perspectives and to create captivating, inspiring, valuable books. I'm excited to realize my vision of a library that reflects the contribution of a diverse and inclusive creative community, and points the way to more mindfulness, health and equity in our individual lives and beyond."
"Bryant has a keen eye for talent, a gift for gathering people together to make magic, and a genius for connecting the threads of food, memory, art, song and history, bringing people to the cultural conversation in a meaningful way," added Snowden. "He gives so much to every step of the book-making process, and I'm beyond excited to work with him as he curates what will be a singular roster of authors, designers, photographers, stylists and others – and, of course, a one-of-a-kind lifestyle imprint."
4 Color's flagship publication will be BLACK FOOD: Stories, Art, and Recipes from Across the African Diaspora (October 2021), curated and edited by Terry. From Homeland to Migration, Spirituality to Black Future, each chapter of BLACK FOOD illuminates a part of the Black experience, offering delicious recipes, moving essays, arresting art from such luminaries as Black Panther Party creative director Emory Douglas and American artist Sarina Mantle, and stunning design by the acclaimed George McCalman. The imprint's first acquisition is the debut cookbook from Top Chef Junior finalist and teen chef sensation Rahanna Bisseret Martinez.
"Ten Speed Press is honored to partner with Bryant on 4 Color Books, and to deepen our longstanding publishing collaboration with such an important leader in building inclusive constituencies and inspiring us all to take better care of ourselves and each other," said Aaron Wehner, EVP, Crown Publishing, and Publisher, Clarkson Potter, Ten Speed Press. "His work inspires big thinking, a healthful approach to body and mind, a love of family, an appreciation of the natural world, and a celebration of art and culture. We're excited to see him bring his broader vision to life and to support and learn from his unique ideas, deep expertise, original style, and efforts to diversify our industry."
Posted: May 3, 2021