Buy One, Give One with Penguin Random House and Zulily to Help Make Bedtimes Better for Kids Nationwide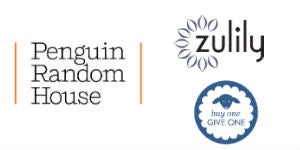 We all know that a good night's sleep is critical to the health and wellbeing of a child, but sometimes it's what happens before sleep during the bedtime routine that helps create good habits that last a lifetime. Here at Penguin Random House, we believe that no good bedtime is complete without a good story, so we've partnered with online retailer zulily to help put books in the hands of kids as part of the company's "making bedtimes better" campaign.
This holiday season, zulily's campaign will benefit First Book, a Penguin Random House partner and nonprofit social enterprise that provides new books and educational resources to kids nationwide, and Treehouse, a Seattle-based nonprofit dedicated to giving children and teens in the foster care system the essentials they need to succeed in school and in life.
Penguin Random House is proud to partner with zulily as the exclusive source of books to both First Book and Treehouse. For every Penguin Random House book sold on zulily we will donate one book to First Book, throughout the holiday season beginning #CyberMonday, November 28. Look for the special Buy One, Give One badge for qualifying books and give the gift of a bedtime story.
In addition to our contributions to First Book, Penguin Random House will also provide Treehouse with books to offer for free to kids and teens in the Seattle foster care system throughout the holiday season.
Read more about zulily's campaign here.
Celebrate #GivingTuesday by sharing this story on social media.
Posted: November 28, 2016