C Pam Zhang Digs into Her Debut Novel as Part of the Antibody Reading Series via Zoom (4/21)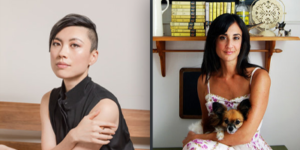 C Pam Zhang , author of HOW MUCH OF THESE HILLS IS GOLD (Riverhead), is participating in the Antibody Reading Series, with fellow Penguin Random House novelist Marie-Helene Bertino and poet/essayist Mary-Kim Arnold, in association with Greenlight Bookstore via Zoom at on Tuesday, April 21 at 8:00pm (ET).
In this electric debut novel set against the twilight of the American gold rush, two siblings are on the run in an unforgiving landscape—trying not just to survive but to find a home. Both epic and intimate, blending Chinese symbolism and re-imagined history with fiercely original language and storytelling, HOW MUCH OF THESE HILLS IS GOLD is a haunting adventure story, an unforgettable sibling story, and the announcement of a stunning new voice in literature. On a broad level, it explores race in an expanding country and the question of where immigrants are allowed to belong. But page by page, it's about the memories that bind and divide families, and the yearning for home.
Born in Beijing but mostly an artifact of the United States, C Pam Zhang has lived in thirteen cities across four countries and is still looking for home. She's been awarded support from Tin House, Bread Loaf, Aspen Words and elsewhere, and currently lives in San Francisco.
!!A reminder for PRH employees: If you are posting this article to a personal or other non-PRH account you must include the hashtag #TeamPRH.!!
Posted: April 20, 2020