Cantú, Edugyan, Makkai, Orange Finalists for 2019 Carnegie Medals for Excellence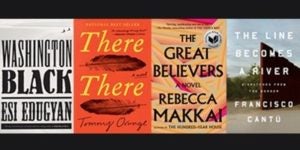 The 2019 Andrew Carnegie Medals for Excellence in Fiction and Nonfiction six-title shortlist has been announced and includes 4 books published by Penguin Random House imprints. Established by the American Library Association in 2012, the Carnegie Medals for Excellence serve as an ALA guide to help adults select quality reading material.
Our Fiction Finalists:
WASHINGTON BLACK by Esi Edugyan (Knopf)
THE GREAT BELIEVERS by Rebecca Makkai (Viking)
THERE THERE by Tommy Orange (Knopf)
Our Nonfiction Finalist:
THE LINE BECOMES A RIVER: Dispatches from the Border by Francisco Cantú (Riverhead)
View the complete shortlist of 2019 Carnegie Medals for Excellence finalists here
The two medal winners will be revealed at the Reference and User Services Association's Book and Media Awards event at the American Library Association (ALA) Midwinter Meeting in Seattle on January 27, 2019.
Posted: October 25, 2018