Carl Zimmer to Explore "LIFE'S EDGE: The Search for What It Means to be Alive" via Zoom (3/10)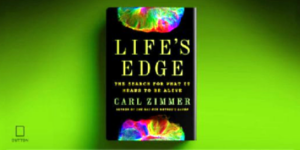 Carl Zimmer will discuss his new book, LIFE'S EDGE: The Search for What It Means to be Alive (Dutton), in conversation with Rachel Becker at a virtual event hosted by the Commonwealth Club via Zoom on Wednesday, March 10 at 3:00 pm (ET).
With genuine passion and extensive research, Zimmer investigates one of the biggest questions of all: What is life? The answer seems obvious until you try to seriously answer it. LIFE'S EDGE is an utterly fascinating investigation that no one but one of the most celebrated science writers of our generation could craft. Zimmer journeys through the strange experiments that have attempted to re-create life. Literally hundreds of definitions of what that should look like now exist, but none has yet emerged as an obvious winner.
Zimmer writes the Matter column for The New York Times and has frequently contributed to The Atlantic, National Geographic, Time, and Scientific American. He has won the American Association for the Advancement of Science's Science Journalism Award three times, among a host of other awards and fellowships. He teaches science writing at Yale, has been a guest on NPR's RadioLab, Science Friday, and Fresh Air, and maintains an international speaking schedule. He is the author of thirteen books about science, including She Has Her Mother's Laugh.
!! As a reminder, if you are posting to a personal or other non-PRH account you must include the hashtag #TeamPRH !!
Posted: March 7, 2021