Caroline Welch In Conversation with Sharon Salzberg via Crowdcast (4/28)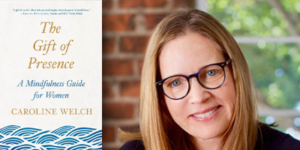 Caroline Welch, author of THE GIFT OF PRESENCE: A Mindfulness Guide for Women (TarcherPerigee), will be in conversation with Buddhism scholar Sharon Salzberg in a Harvard Bookstore live virtual event via Crowdcast on Tuesday, April 28, at 7:00pm (ET).
THE GIFT OF PRESENCE guides readers in developing four innate capacities we all possess that will allow us to become more resilient and centered in our lives–even when life is throwing all that it has at us. Welch takes readers on a mindfulness journey to help them de-stress and cultivate inner peace. According to Welch, you do not need countless hours sitting in silence to be more present in your life–the key is to practice mindfulness wherever you are and whenever you can.
Welch is the CEO and Co-founder with Dr. Dan Siegel of the Mindsight Institute in Santa Monica, California. A graduate of the University of Wisconsin Law School with a master's degree from the University of Southern California, she started her career in law as a corporate litigator. Welch has served as a Los Angeles County court-appointed mediator, as well as in house counsel at MGM Studios and Spelling Entertainment Group. She began her mindfulness practice forty years ago while working in Japan as an English teacher for three years. Welch provides lectures and workshops to enhance well- being in our personal and professional lives. She and her husband live in Santa Monica with their dog Charlie, and have two adult children.
!!A reminder for PRH employees: If you are posting this article to a personal or other non-PRH account you must include the hashtag #TeamPRH.!!
Posted: April 27, 2020