Carrie Finison Launches DOZENS OF DOUGHNUTS with a Virtual Storytime via Zoom (7/21)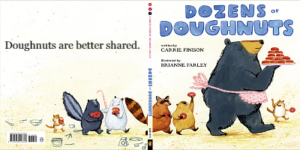 Carrie Finison will launch her new picture book, DOZENS OF DOUGHNUTS (Putnam Books for Young Readers), with a virtual storytime event hosted by Belmont Books via Zoom on Tuesday, July 21 at 6:30 pm (ET).
Illustrated by Brianne Farley, Finison's DOZENS OF DOUGHNUTS features a generous but increasingly put-upon bear making batch after batch of doughnuts for her woodland friends without saving any for herself in this delightful debut picture book about counting, sharing, and being a good friend.
LouAnn (a bear) is making a doughnut feast in preparation for her long winter's nap. But just before she takes the first bite, DING DONG! Her friend Woodrow (a woodchuck) drops by. LouAnn is happy to share her doughnuts, but as soon as she and Woodrow sit down to eat, DING DING! Clyde (a raccoon) is at the door. One by one, LouAnn's friends come over–Topsy (an opossum) and then Moufette (a skunk) and then Chip and Chomp (chipmunks)–until it's one big party. Louann welcomes her surprise guests and makes batch after batch of doughnuts, always dividing them equally among her friends. But she makes one BIG miscalculation. Soon LouAnn's kitchen is bare, winter is near, and she's had nothing to eat at all!
!! As a reminder, if you are posting to a personal or other non-PRH account you must include the hashtag #TeamPRH !!
Posted: July 19, 2020