Casey Cep's Brilliant Literary Brew, with History, Religion, Murder, Fraud and Harper Lee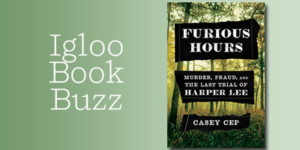 Our new Igloo Book Buzz selection, FURIOUS HOURS: Murder, Fraud and the Last Trial of Harper Lee by Casey Cep, published by Alfred A. Knopf on May 7, has two intertwined mysteries at its heart – a shocking true-crime story, and the mystery of why, despite her fascination with the case, copious research, and years of effort, Harper Lee was never able to write a book about it.
Reverend Willie Maxwell was a rural preacher accused of murdering five of his family members for insurance money in the 1970s. With the help of a savvy lawyer, he escaped justice for years until a relative shot him dead at the funeral of his last victim. Despite hundreds of witnesses, Maxwell's murderer was acquitted – thanks to the same attorney who had previously defended the Reverend.
Sitting in the audience during the vigilante's trial was Harper Lee, who had traveled from New York City to her native Alabama with the idea of writing her own In Cold Blood, the true-crime classic she had helped her friend Truman Capote research seventeen years earlier. Lee spent a year in town reporting, and many more years working on her own version of the case.
Casey Cep brings this story to life, from the shocking murders to the courtroom drama to the racial politics of the Deep South. At the same time, she offers a deeply moving portrait of one of the country's most beloved writers and her struggle with fame, success, and the mystery of artistic creativity.
"I found this story while reporting on Harper Lee's second novel, Go Set A Watchman, for The New Yorker," Ms. Cep reveals. "But it would have been incredibly interesting even if Lee had never been involved. There was insurance fraud and murder, but I was most drawn to the rich and strange lives of these characters, from a rural minster accused of violence and rumored to be a practitioner of voodoo to a liberal lawyer with grand political ambitions. Through them, I got to write about religion and politics, not to mention labor history and natural history and so much else. But Harper Lee was always going to be a part of this book, and it was such a thrill to follow in her footsteps and try to understand her life as a writer."
Knopf Senior Editor Andrew Miller: "I was struck from the beginning by the sheer assurance of Casey's writing. A lesser writer might have rushed into the murders and fraud, and especially into the Harper Lee connection, but instead we get the story of a man-made lake, and then things go from there. Casey is patient, and I found she made me patient too. The digressions and details are so fascinating that ultimately the wait makes for a richer book, and at this point I can't imagine another way to tell this story."
Fellow authors offer further praise:
"A triumph on every level. One of the losses to literature is that Harper Lee never found a way to tell a gothic true-crime story she'd spent years researching. Casey Cep has excavated this mesmerizing story and tells it with grace and insight and a fierce fidelity to the truth." —David Grann, author of Killers of the Flower Moon
"It's been a long time since I picked up a book so impossible to put down. FURIOUS HOURS made me forget dinner, ignore incoming calls, and stay up reading into the small hours. It's a work of literary and legal detection as gripping as a thriller. But it's also a meditation on motive and mystery, the curious workings of history, hope, and ambition, justice, and the darkest matters of life and death. Casey Cep's investigation into an infamous Southern murder trial and Harper Lee's quest to write about it is a beautiful, sobering, and sometimes chilling triumph." —Helen Macdonald, author of H is for Hawk
"She explains as well as it is likely ever to be explained why Lee went silent after To Kill a Mockingbird … it's here, in her descriptions of another writer's failure to write, that her book makes a magical little leap, and it goes from being a superbly written true-crime story to the sort of story that even Lee would have been proud to write." — author Michael Lewis, from his review in The New York Times
Posted: May 8, 2019