Casey Schwartz and Franklin Foer Talk about Paying Attention via Crowdcast (4/17)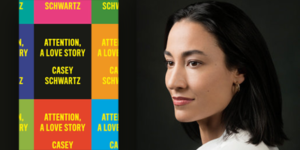 Casey Schwartz, author of ATTENTION: A Love Story (Pantheon), will be in conversation with fellow Penguin Random House author Franklin Foer, this virtual event hosted by Politics & Prose via Crowdcast on Friday, April 16 at 7:00pm (ET).
Combining expert storytelling with genuine self-scrutiny, Schwartz details the decade she spend taking Adderall to help her pay attention (or so she thought) and then considers the role of attention in defining our lives. Blending memoir, biography, and original reporting, Schwarz examines her attempts to preserve her authentic life and decide what is most important in it. ATTENTION: A Love Story will resonate with readers who want to determine their own minds, away from the siren call of their screens.
!!A reminder for PRH employees: If you are posting this article to a personal or other non-PRH account you must include the hashtag #TeamPRH.!!
Posted: April 16, 2020