Cat Deeley to Read Eric Carle's THE VERY HUNGRY CATERPILLAR via Instagram Live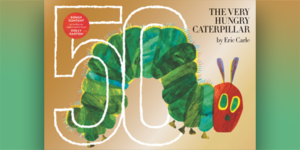 Random House Children's Books author Cat Deeley will read Eric Carle's THE VERY HUNGRY CATERPILLAR (Philomel Books) as part of #ReadTogetherBeTogether via Instagram Live on Friday, April 17 at 3:00pm (ET).
Eric Carle is acclaimed and beloved as the creator of brilliantly illustrated and innovatively designed picture books for very young children. His best-known work, THE VERY HUNGRY CATERPILLAR, has eaten its way into the hearts of millions of children all over the world for more than 50 years and has been translated into more than 25 languages and sold over 12 million copies.
Cat Deeley 's debut children's book, The Joy in You (RHCB), will be published in September 2020. She is the proud mama of two boys. Since 2006, she has been the host of So You Think You Can Dance, which has earned her five Primetime Emmy nominations. Cat is also a UNICEF UK ambassador.
!!A reminder for PRH employees: If you are posting this article to a personal or other non-PRH account you must include the hashtag #TeamPRH.!!
Posted: April 16, 2020