Catch MISTY THE CLOUD at a Live Event Near You!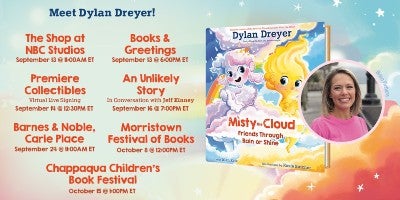 The follow-up to the New York Times, USA Today, and the Wall Street Journal  bestseller, MISTY THE CLOUD: FRIENDS THROUGH RAIN OR SHINE teaches readers about compromise, sharing, and dealing with good days, bad days, and everything in between.
Be sure to catch author and meteorologist, Dylan Dreyer, at one of the many live events upcoming this month!  And if you can't be there live, catch Dylan Dreyer in an Instagram Live chat with Parents Editor-In-Chief Grace Bastidas On September 13th at 12:15PM. Make sure to follow Dylan and Parents on Instagram to follow along!
Dylan Dreyer is the author of the New York Times, Wall Street Journal, and USA Today bestseller Misty the Cloud. She is also a meteorologist for NBC News, a co-host of the 3rd Hour of Today, and the host of Earth Odyssey with Dylan Dreyer. She's covered hurricanes with 130 mph winds, but she loves a nice breeze when she walks her dog, Bosco. She's stood out in six-foot snowstorms (which is taller than her!), but she loves to go sledding with her three sons. She's watched roads turn into rivers during strong thunderstorms, but she loves to splash in puddles. She's traveled the country (and has been to 49 states!) and the world…she's even been to the North Pole! She loves the weather and thinks the world is a fascinating place. She lives in New York City with her husband, Brian; their sons, Calvin, Oliver, and Russell; and their dog, Bosco.
Posted: September 10, 2022