Celebrate Eric Carle's Birthday With Brightly Storytime LIVE on Saturday, June 25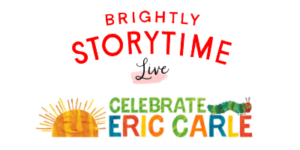 Join Brightly Storytime LIVE on Saturday, June 25, at 1:00 (ET) for an extra-special celebration honoring beloved author and artist Eric Carle. Register here today! This first-of-its-kind event for Brightly will showcase classics like The Very Hungry Caterpillar and a few new favorites, read-aloud by authors Angela DiTerlizzi, Alissa Holder, Zulekha Holder-Young, Grace Lin, and Rafael Lopez, as well as special guest David Feinstein, literary educator of The Eric Carle Museum. 
It will also feature some brand new segments, including:
We hope you'll join us on Saturday and help spread word of this exciting event (friendly reminder to use #TeamPRH if you're posting on a personal account).
For even more Eric Carle birthday celebrations, check out the opening of the "Eric Carle: Book Birthdays" exhibit at The Carle and the release of two new books: Eric Loves Animals and The Art of Eric Carle.
For more information on Brightly Storytime, contact Julianne Jones.
For more information on The World of Eric Carle, contact Garrett Bond.
Posted: June 23, 2022