Celebrate Hispanic Heritage Month by Giving Back!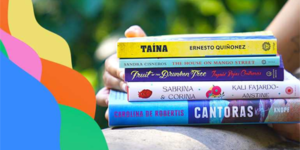 Hispanic Heritage Month kicked off on September 15th and we're excited that our celebration is underway. This month's goal is to reach new audiences by honoring Hispanic culture and giving back to the community. We want our Hispanic audience to feel heard, seen, and appreciated.
The theme we'll be promoting throughout the month is #CuentosUnidos (United Stories). We hope to engage the Hispanic community by encouraging them to share their stories about what Hispanic Heritage Month means to them. For every social post using #CuentosUnidos, PRH will be donating $1 to We Need Diverse Books (up to $15K)!
In addition to sparking conversations on social, we'll also offer a resource for books to read during Hispanic Heritage Month with two newly-created lists (Author Recommendations for Hispanic Heritage Month and Books to Read for Hispanic Heritage Month). Each list features both English and Spanish language editions of the books, making the preferred language of our readers more accessible.
The festivities for Hispanic Heritage Month are just getting started, so be on the lookout for more information on a variety of things, from videos to a ticketed author event (with proceeds going to We Need Diverse Books!).
In the meantime, join the conversation and give back to a worthy cause by using the hashtag #CuentosUnidos! (NOTE: if you are sharing from your personal account, use #TeamPRH!)
We Need Diverse Books is a non-profit organization that aims to help produce and promote literature that reflects and honors the lives of all young people. They visualize a world in which all children can see themselves in the pages of a book and their mission is to put more books featuring diverse characters into the hands of all children.
Posted: September 20, 2019