Celebrate Langston Hughes' Legacy and NOT WITHOUT LAUGHTER Novel Tonight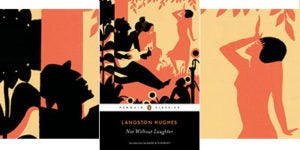 To celebrate Langston Hughes' legacy and the publication of a new Penguin Classics edition of his novel, NOT WITHOUT LAUGHTER,  our own Chris Jackson, Vice President, Publisher and Editor in Chief, One World/Random House, will join Angela Flournoy, novelist and author of NOT WITHOUT LAUGHTER's new introduction , and Doreen St. Felix, staff writer for The New Yorker, on a special panel at the Langston Hughes House in Harlem, where the author lived and wrote during the last twenty years of his life.  
This discussion takes place tonight, Wednesday, January 17, beginning at 7:00 pm, at The Langston Hughes House (20 East 127th Street). The event is free and open to the public (over 21).  Refreshments and wine will be served.
Largely autobiographical, NOT WITHOUT LAUGHTER is the coming of age novel of a young black boy growing up in racially divided rural Kansas in the 1930s. With echoes of current headlines from Ferguson, Chicago, and St. Paul, the book captures the plight of a young black man (and, subsequently, an entire community) attempting to survive in the face of institutionalized inequality.   When first published in 1930, NOT WITHOUT LAUGHTER established Hughes as not only a brilliant poet and leading light of the Harlem Renaissance but also a gifted novelist.
Posted: January 17, 2018