Celebrate National Poetry Month, Sign Up for Knopf's "Poem a Day"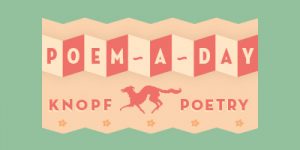 The Academy of American Poets officially designated April as National Poetry Month beginning in 1996. This annual celebration highlights the extraordinary legacy and ongoing achievement of American poets while marking poetry's important place in our culture and everyday lives.
Since its founding in 1915, Knopf has published some of the finest poets of all time. You are invited to celebrate this tradition by signing up for Knopf's Poem-A-Day program. Each day throughout April, Knopf e-mails out a free poem by a new or established poet drawn from the imprint's extensive list of books.
Some of the featured poets include time-honored favorites such as James Merrill, Robin Coste Lewis, Kevin Young, Sandra Cisneros, and Langston Hughes, as well as up-and-coming voices like: Catherine Cohen, Jonah Mixon-Webster, Richie Hofmann, and Tomás Q. Morín.
For further reading, check out these great collections, MISTER TOEBONES by Brooks Haxton, BEETHOVEN VARIATIONS by Ruth Padel, and look forward to Stereo(TYPE) by Jonah Mixon-Webster coming this summer.
Posted: April 7, 2021