Celebrate Sara Sargent's ALWAYS TOGETHER AT CHRISTMAS: A Book Made for Our 2020 Holiday Season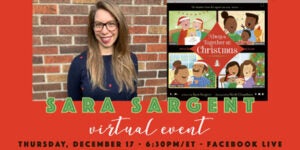 Random House Children's Books Senior Executive Editor Sara Sargent has authored a new picture book, ALWAYS TOGETHER AT CHRISTMAS, illustrated by Mark Chambers and published by Random House Books for Young Readers. This timely paperback title affirms the special magic of the holidays despite the physical distance from loved ones and helps children discover the joy of Christmas in different and unique ways.
ALWAYS TOGETHER AT CHRISTMAS is the only book of its kind this season that highlights different family traditions and the ways they're changing in the pandemic: from Santa's elves practicing social distancing to opening presents via Zoom on Christmas morning. It even includes ideas for new quarantine-appropriate Christmas traditions!
Join Sara as she presents ALWAYS TOGETHER AT CHRISTMAS at a cozy virtual storytime event hosted by the Little Shop of Stories via Facebook Live on Thursday, December 17 at 6:30 pm (ET).
In addition to being an editor at Random House Children's Books, Sara Sargent collects Christmas ornaments from all over the world, from every city she visits—her favorite one is a hand-painted pink bauble from the Madonna Inn in San Luis Obispo, California. Sara lives in Brooklyn, and this is her first picture book.
Mark Chambers is an author and illustrator of children's picture books and young fiction. Mark has been shortlisted for the AOI World Illustration Awards and the Roald Dahl Funny Prize, and he's been awarded the Sheffield Children's Picture Book Award. Mark will be celebrating the holidays in France.
Posted: December 16, 2020