Celebrate the Solstice with GREEN RIDER Author Kristen Britain via Facebook Live (6/20)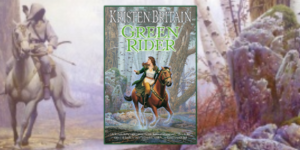 Celebrate the Solstice with Kristen Britain, New York Times bestselling author of GREEN RIDER (DAW), who will be on a panel discussion with cover artist Donato Giancola via Facebook Live on Saturday, June 20 at 7:00pm (ET).
Magic, danger, and adventure abound for messenger Karigan G'ladheon in the debut of Kristen Britain's New York Times-bestselling Green Rider fantasy series. Taking on the golden-winged horse brooch that is the symbol of the Green Riders, Karigan is swept into a world of deadly danger and complex magic, her life forever changed. Compelled by forces she cannot understand, Karigan is accompanied by the silent specter of the fallen messenger and hounded by dark beings bent on seeing that the message, and its reluctant carrier, never reach their destination.
Ms. Britain is the author of the New York Times bestselling Green Rider series. Deep within the spruce-fir forest of coastal Maine, down a rambling mossy vale, and far beneath the inkwell of the sky, you will find her woodland home, where she crafts her tales and consorts with a pair of furry, tuft-eared sprites.
!! As a reminder, if you are a PRH employee posting to a personal or other non-PRH account, you must include the hashtag #TeamPRH !! 
Posted: June 18, 2020