Celebrated Former Putnam Art Director Ann Spinelli Dies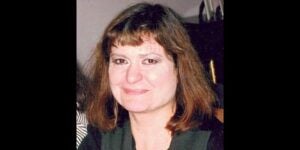 With sadness we report that Ann Spinelli, former Vice President, Executive Art Director for the Putnam Publishing Group, passed away on May 9, 2022.
Ann had a long and celebrated career in publishing, which culminated in her tenure at Putnam, where she was Art Director from 1981 until her retirement in 2001. She designed and art directed countless book jackets for Putnam and Riverhead, from blockbusters by Tom Clancy, Dick Francis, Dean Koontz, Robert B. Parker, and Lawrence Sanders to literary works by Alice Hoffman, Chang-rae Lee, Amy Tan, and Kurt Vonnegut, to name just a few. Her range also included celebrity books such as those by Ann-Margret, Art Buchwald, Bette Davis, and Elizabeth Taylor. Ann worked with the top book designers and illustrators over the years, a mong them Paul Bacon, Don Brautigam, Walter Harper, Larry Ratzkin, Tom Tafuri, and Honi Werner. She was responsible for many iconic jackets that sparked trends in the industry.
Most important, Ann is remembered as a mentor to the designers whose careers she launched and who are top talents in publishing today. Ann was passionate about design, the authors and artists with whom she worked, and the colleagues with whom she collaborated. Her kindness, generosity, and unique sense of humor left an indelible mark on all.
Ann was predeceased by her husband, Gordon Marra. She is survived by her sisters, brother, and numerous nieces, nephews, and extended family. Memorial contributions in her name may be made to St. Jude Children's Research Hospital (stjude.org) or AnimalKind NY (animalkindny.org).
Posted: May 17, 2022