Celebrating Margaret Atwood and Her New Novel THE TESTAMENTS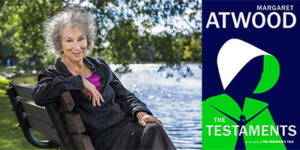 The author of the moment is unquestionably Margaret Atwood, whose new novel, THE TESTAMENTS, the sequel to THE HANDMAID'S TALE, is being published by Nan A. Talese/Doubleday in the US and by McClelland & Stewart in Canada on Tuesday, September 10. This worldwide literary event will be celebrated with an exclusive live broadcast of MARGARET ATWOOD: LIVE IN CINEMAS in the UK, US and Canada. Filmed live from the stage of the National Theatre in London, Atwood will be interviewed by broadcaster and author Samira Ahmed in a conversation spanning the length of Atwood's remarkable career, her diverse range of works, and why she has returned to her seminal handmaid story, 34 years later.
Atwood says, "I am delighted that the launch of THE TESTAMENTS will take place not only in London on September 10th, but also by live-streaming to over 1,000 cinemas around the world. I can't be in all the places at once in my analogue body, but I look forward to being with so many readers via the big screen."
A finalist for the Booker Prize and on the Scotiabank Giller Prize longlist, THE TESTAMENTS is earning high praise across major media outlets, including The New York Times, Michiko Kakutani calling the book, "A fast, immersive narrative that's as propulsive as it is melodramatic." Atwood is featured on the cover of the current edition of TIME magazine as well as in The New York Times, Wall Street Journal and Associated Press. She was also interviewed on CBS Sunday Morning and NPR. Canadian media highlights include the cover of the current edition of Macleans magazine, an excerpt in The Globe and Mail, a major feature in the Toronto Star, and an interview with CBC's The Current.
"An Evening with Margaret Atwood." hosted by Samantha Bee, on September 20 at Town Hall will be her only New York appearance. For information about tickets to this event, click here. The first of Atwood's ten sold-out Canadian events will take place on Monday September 16 at the St. Lawrence Centre for the Arts, where she will be in conversation with journalist Anna Maria Tremonti.
Posted: September 9, 2019