Celebrating Olga Tokarczuk's Nobel Prize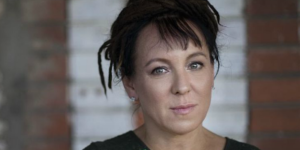 Olga Tokarczuk is the newest Nobel Prize winner to join the more than 80 previous laureates, most recently Kazuo Ishiguro, Alice Munro, Orhan Pamuk, and Toni Morrison, published by current and predecessor Penguin Random House imprints.
To celebrate Olga's storytelling, PRH Audiobook editions of FLIGHTS and DRIVE YOUR PLOW OVER THE BONES OF THE DEAD are now available as Books for Review via PRH Audio's Volumes app. If you have not already done so, download the Volumes app here. Register within the app using your @penguinrandomhouse.com e-mail address and you will be able to access the audiobooks free immediately.
PRH audio producer Sarah Jaffe says, "Olga Tokarczuk's brilliant, genre-bending works are driven by a voice that is not only a gift to readers, but a gift to any actor lucky enough to portray it. FLIGHTS, with its many thoughtful threads and forking paths, is deftly navigated by Julia Whelan's sensitive, surefooted, and infinitely versatile narration. Narrator Beata Pozniak's natural slight Polish accent and careful, skillful narration of DRIVE YOUR PLOW OVER THE BONES OF THE DEAD lend texture and authenticity to the audio edition, channeling the singular voice of Janina Duszejko with nuance and depth."
Courtesy of Riverhead, here is more to know about our author's fiction:
Exquisitely translated by the award-winning novelist Jennifer Croft and published by Riverhead in 2018, FLIGHTS is an intoxicating, genre-bending mix of writing on human movement, borders, and boundaries. NPR's Fresh Air called it "a revelation," Parul Sehgal in The New York Times it as "tightly conceived and elegantly modulated, the language balletic." James Wood in The New Yorker called Tokarczuk "such a talented redescriber of the world." Flights won the 2018 Man Booker International Prize and was a finalist for the 2018 National Book Award in Translated Literature.
DRIVE YOUR PLOW OVER THE BONES OF THE DEAD was released in 2019 by Riverhead, translated by Antonia Lloyd-Jones, to equally high levels of critical acclaim. This wildly entertaining detective story – and elegantly subversive exploration of Catholicism and environmentalism – was heralded by Jia Tolentino at The New Yorker as "one of the most existentially refreshing novels I've read in a long time." The Guardian called it "one of the funniest books of the year," The New York Times Book Review said "This book is not a mere whodunit: It's a philosophical fairy tale about life and death that's been trying to spill its secrets," and The Wall Street Journal said of Tokarczuk "She's a gifted, original writer, and the appearance of her novels in English is a welcome development." Drive Your Plow Over the Bones of the Dead was a finalist for the 2019 Man International Booker Prize and longlisted for the 2019 National Book Award in Translated Literature.
And forthcoming from Riverhead Books in 2020 will be THE BOOKS OF JACOB, translated by Jennifer Croft, an epic novel which questions Poland's historical narrative of openness and tolerance. Jacob Frank was an eighteenth-century Polish Jew who proclaimed himself as the Messiah, and to research and write this novel, Tokarczuk and her partner drove around Europe tracing his path, through Ukraine, Bulgaria, Romania, the Czech Republic, Germany, and Turkey. The Books of Jacob has already won Poland's highest literary honor, The Nike Prize.
Rebecca Saletan, VP and Editorial Director of Riverhead Books, and Olga Tokarczuk's editor, "It has been an indescribable joy to immerse myself in working with Olga Tokarczuk. Her serene devotion to her work, her playfulness, her generous acknowledgment of her translators and all those who bring her books before the world, and her infectious joy as that happens make the outward persona of this remarkable writer a mirror to one of the most fertile imaginations of our time."
Geoffrey Kloske, President & Publisher of Riverhead Books says "I am thrilled at this recognition for novelist Olga Tokarczuk. While the political issues she takes on are urgent and provocative, her writing is shot with unexpected humor, captivating storylines, and shimmering language. Her formal innovations expand the possibilities of what a novel can encompass. We are honored to be her publisher and thrilled to bring her to a North American audience."
Posted: October 11, 2019