Celebrating Our 2022 Creative Writing Award Winners!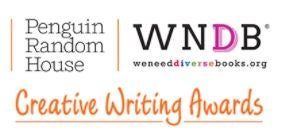 Last week, Penguin Random House, in partnership with We Need Diverse Books (WNDB), presented our five 2022 Creative Writing Award winners with a week of professional development programming with practical knowledge and insights into the book world.  
From July 11 – 15, high school seniors Sagar Gupta, Ife Martin, Eva Martinez, Arianna Steadman and Kayla Xu received direct access to publishing professionals through a series of virtual events designed and hosted by the PRH Corporate Communications Team.
The week kicked off with a Networking 101 workshop led by Shania Carroll, Associate, DEI and Human Resource Recruiters, Katherine Lam,  Kariana Reyes and Sophia Wells. The workshop offered advice and tips for connecting with publishing professionals.
Day Two featured a panel to showcase the plentiful career opportunities across the publishing industry. Moderated by Christine Hung, Knopf, panelists included Kris Kam, Random House Children's Books;  Angela Kim, Berkley Publishing Group; Kelsey Manning, Knopf; Nick Martorelli, Audio Publishing Group; and Talisa Ramos, Penguin Young Readers.
On Day Three, Penguin Young Readers author Amanda Gorman engaged in a lively fireside chat moderated by Cree Myles, Curator of PRH platform All Ways Black. The fireside chat will be shared with PRH colleagues via igloo in a separate report.
On Day Four, each student had the opportunity to discuss their CWA entries through one-on-one virtual meetings with Penguin Random House editors, including Frank Berrios, Random House Children's Books, Joanna Cardenas, Penguin Young Readers,  Maris Dyer, Knopf, Anna Kaufman, Knopf and Paul Pastor, Waterbrook Multonah.
The week concluded with a virtual Creative Writing Award Celebration. In lieu of our traditional awards ceremony, a pre-recorded video featuring the students reading their entries was shared. Please see the 2022 CWA winners video below by clicking the arrow.
We thank our dedicated colleagues who volunteered to be a part of this week.  It was our pleasure to host the students and support their journeys as young creatives.
To learn more about the Creative Writing Awards, please visit our Social Impact site here.
Posted: July 18, 2022