Celebrating Our 7 PW Star Watch 2018 Honorees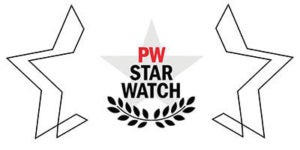 Penguin Random House is proud to have 7 colleagues among this year's 45 PW Star Watch honorees, recognized as "outstanding individuals who further the cultural and economic success of publishers, bookstores, and the industry at large," as noted by Publishers Weekly, celebrating some of the "rising stars of our industry" in the fourth annual Star Watch program.
The honorees are featured in a PW Star Watch 2018 special supplement in Publishers Weekly's September 3 print edition. They were selected from among more than 300 nominees submitted from across the trade-publishing industry.
The judging process involved a team of representatives from PW, the American Booksellers Association, the Association of American Publishers, and the Frankfurt Book Fair. Five of these 45 "stars" are designated "finalists" (including our colleague Abbe Wright) for an expenses-paid trip to the Frankfurt Book Fair in October, with the "2018 Superstar" to be announced on Wednesday, September 12, at a PW Star Watch reception in Manhattan.
Publishers Weekly emphasizes, "The mission to turn up the volume of marginalized voices in publishing is something we've seen among the honorees and finalists since Star Watch's launch … This year's talented group of editors, publicists, marketers, and designers are making their mandate for diversity a reality through the books they publish … [making] the future of publishing look very bright indeed."
Meet our 2018 Star Watchers:
Glory Anne Plata, Publicity Manager, Riverhead Books
"A powerhouse" is how Jynne Dilling Martin, Vice President, Associate Publisher and Publicity Director, describes Plata. Her "creativity and dogged follow-through," Martin notes, have helped break out world voices such as Helen Oyeyemi, Samanta Schweblin, and Juan Gabriel Vásquez. Martin also credits Plata's strong media relationships and innovative campaigns for putting "esoteric and challenging nonfiction," such as Francisco Cantu's THE LINE BECOMES A RIVER and Carlo Rovelli's THE ORDER OF TIME, onto the New York Times bestseller list.
"What really sets Glory apart is her creative leadership," Martin says. Plata created the Riverhead Table program: each month, one Riverhead author joins the staff in cooking a meal inspired by their book. The team has cooked jerk lamb with Marlon James and tea snacks with Meg Wolitzer. Mohsin Hamid created a Pakistani feast. These events have earned media coverage in outlets such as LitHub, Time, and the San Francisco Chronicle.
Sam Raim, Associate Editor, Penguin Books
"Wise—and read—beyond his years" is how Patrick Nolan, VP, Editor-In-Chief and Associate Publisher of Penguin Books, describes Raim. "He knows all that you need to know about the trends in YA crossover, where the hot submission is going to come from—or anything important and relevant to our business," Nolan adds.
Now in his fifth year at Penguin, Raim has built a list of more than a dozen titles. Last year, in his role overseeing media tie-ins, he was ahead of the competition in spotting an opportunity to sign Petra Hammesfahr for a book deal after reading early reports about her TV series, The Sinner, starring Jessica Biel. The book went on to become Penguin Books' highest-selling trade original of last year with more than 70,000 copies sold.
Among Raim's promising forthcoming titles is NUKING THE MOON, from Vince Houghton, a historian and curator of the International Spy Museum.
Jasmin Rubero, Associate Art Director, Kokila
In January, Rubero, who joined Penguin Young Readers as an intern in 1999, was appointed Associate Art Director for Kokila, a new imprint that will focus on diverse books. She, somewhat literally, put her stamp on the press when she designed its logo. "The care, curiosity, and intention she demonstrated in the process was truly extraordinary," say Namrata Tripathi, Vice President, Publisher of Kokila, and Lily Malcom, Vice President, Executive Art Director of Dial Books for Young Readers.
First Rubero immersed herself in studying the koel bird (kokila is the Sanskrit for koel). She also taught herself the tenets of logo design and learned animation so that the development of the logo could be revealed in video. At Dial, Rubero designed Junot Díaz's ISLANDBORN, illustrated by Leo Espinosa, with whom she worked closely to develop a book authentically reflective of a diverse Latin-American culture. Other projects include Keith Haring: The Boy Who Just Kept Drawing by Kay Haring and the bestselling Ladybug Girl series.
Margo Shickmanter, Associate Editor, Doubleday
Shickmanter's background as a literary scout at Bettina Schrewe Literary Scouting and as a bookseller at the Bookstore in Lenox, Mass., has served her well in her four years at Doubleday. While she was still an Assistant Editor, she acquired THE WATER CURE by Sophie Mackintosh, which was longlisted for the 2018 Man Booker Prize after it was published in the U.K. earlier this year and is one of PW's top 10 most-anticipated literary fiction books for the coming season. Also on her list is FRUIT OF THE DRUNKEN TREE by Ingrid Rojas Contreras, which came out in July and was named a B&N Discover Pick, an Indie Next Pick, and a LibraryReads Pick. Finding these bold new voices is one reason William J. Thomas, Doubleday's Publisher and Editor-In-Chief, says, "Margo possesses all the qualities essential for a great editor: poise, passion, and taste."
Elizabeth Ward, Associate Director, Digital Strategy, Random House Children's Books
John Adamo, Senior Vice President of Marketing at Random House Children's Books, praises Ward for succeeding at "the herculean task of launching and growing our division's first teen platform, called Underlined." He adds, "Elizabeth has been at the center of every decision for the launch and growth strategy." When Ward began the project in March 2017, she set up a Teen Launch Committee that included members of the editorial, sales, marketing, and publicity departments, to get the teams invested in the platform. She drove email sign-ups, and the subscription base grew to 100,000 by the end of last year. It now has more than 127,000 subscribers and has received 1.6 million page views since its launch in May 2017. In its first six months, Underlined received more than 400,000 page views.
Sara Weiss, Senior Editor, Ballantine Books
According to Jennifer Hershey, Senior Vice President, Editor-In-Chief at Ballantine Bantam Dell, Weiss excels in every area and at every stage of the publication process. In acquisitions, Hershey adds, Weiss shines at both bringing literary projects to the table for consideration and seeking book ideas that don't generate from an agent. "She is able to look at any kind of story and see the possibilities of structure and shape, the emotional ebbs and flows, and the broad brushstrokes."
Weiss's relationships with authors are also impressive. "She is a genius at earning an author's trust," Hershey says, finding the particular way that will allow the best possible book to emerge. Weiss finishes off her projects by being a staunch advocate for the books and authors; she navigates smoothly between the agent and author on one side and the marketing publicity and sales teams on the other.
After beginning her editing career at Grand Central in 2007, Weiss moved to Ballantine in 2015. Among her nonfiction titles are HOW TO BE A BAWSE by Lilly Singh, TALKING AS FAST AS I CAN by Lauren Graham, and ASK A MANAGER by Alison Green. In fiction, she acquired NPR host Linda Holmes's debut novel, EVVIE DRAKE STARTS OVER.
Abbe Wright, Senior Editor, Read It Forward, Corporate Consumer Marketing Group
In 2015, Abbe Wright learned about Read It Forward, Penguin Random House's publisher-agnostic online community whose mission, Wright notes, is to help readers find the "literary loves of their lives" and to "build community around books." She says she knew it would be a perfect fit and was hired that year as editorial lead, back when, as she describes it, Read It Forward was "essentially a place where people could win a free book, with some editorial content."
Wright's job was a complete redesign and revamp of the editorial content. Under her leadership, the enterprise has become "a seven-days-a-week content machine that offers book recommendations galore, author-and-editor-curated bookshelves, giveaways, reading lifestyle pieces, and thematic essays series," according to Kristin Fritz, Vice President, Executive Editor of Content Marketing, Penguin Random House. Wright, Fritz says, "works at breakneck speed, churning out every manner of book-adjacent content driving into the site's tripod goals: site traffic, subscriber acquisition, and book sales," resulting in 163% year-over-year growth in unique visits to the site since she has been at the helm. For Wright, this growth has meant a very recent promotion, just before press time, to senior editor.
Next year will bring a new dimension with the Clarkson Potter publication of a Read It Forward book journal. In addition to journal pages for readers to record any and all reflections about books, it offers a plenitude of book lists that are the core of the Read It Forward experiences, Wright notes. The lists include books to make readers laugh or cry, books with feminist themes, the classics, and so on.
Wright believes that reader trust has been built by Reader It Forward's commitment to remaining publisher-agnostic. "Our readers don't feel marketed to," she says. "As a conduit between readers and books that will deliver this magic, I feel like a wizard."
Posted: September 5, 2018