Celebrating Our Audie Awards® Winners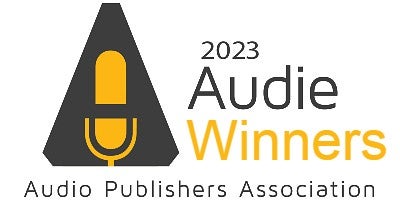 Four Penguin Random House Audio recordings published last year were bestowed best-in-category honors at the Audio Publishing Association's (APA's) 2023 Audie Awards®, held at Manhattan's Chelsea Piers' Pier Sixty on March 28. The premier industry-awards program recognizes distinction in audiobooks and spoken-word entertainment.
SPARRING PARTNERS by John Grisham
Read by Jeff Daniels, Ethan Hawke, January LaVoy, John Grisham (Random House Audio)
Produced by Orli Moscowitz; published in print by Doubleday
MAD HONEY by Jodi Picoult and Jennifer Finney Boylan
Read by Carrie Coon, Key Taw, Jodi Picoult, and Jennifer Finney Boylan (Random House Audio)
Produced by Orli Moscowitz, published in print by Ballantine
DELILAH GREEN DOESN'T CARE by Ashley Herring Blake
Read by Kristen DiMercurio (Penguin Audio)
Produced by Orli Moscowitz, published in print by Berkley
Read by Terry Crews (Penguin Audio)
Produced by Dan Zitt, published in print by Portfolio
PRH Audio producers Kelly Gildea and Amber Beard were also recognized with a Special Industry Achievement Award (presented virtually by Whoopi Goldberg) for their work to increase inclusivity in audiobooks via the PRH Audio Narrator Mentorship program. The Special Industry Achievement recognizes individuals who have had a significant impact on the audiobook industry over the past year. Kelly and Amber spearheaded the program, now in it's third cohort, which matches new narrators from underrepresented communities with a member of PRH Audio's production team to provide advice on navigating the industry, audition and performance feedback, and develop and record a demo. Each round has received thousands of applications from narrators all over the world.
And our colleagues at PRH Grupo Editorial Mexico won in the Spanish-language category:
¡PRIMERA CAÍDA! EL ENMASCARADO DE TERCIOPELO by Diego Mejía Eguiluz, read by Noé Velázquez
LOUD, cheering congratulations to all!
Watch a recording of the ceremony on YouTube here and view the full list of winners here.
Posted: March 29, 2023