Celebrating World Read Aloud Day with LitWorld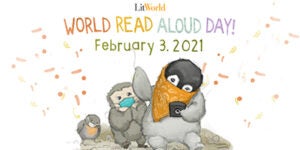 Did you know that reading aloud every day puts kids ahead by 1 year, no matter their background? That's just one of the reasons we're proud to celebrate the twelfth annual World Read Aloud Day today, February 3rd, in partnership with LitWorld, a longtime PRH partner and nonprofit organization with the mission of strengthening kids and communities through the joy and transformation of reading, writing, and storytelling. From virtual read-alouds to live events, booklists and activities, World Read Aloud Day celebrates the power of reading aloud.
PRH Children's divisions Penguin Young Readers (PYR), Random House Children's Books (RHCB) and Brightly have combined forces to offer online resources and content for kids across the country to enhance this year's virtual World Read Aloud celebrations. PYR and RHCB have both provided curated reading lists for children of all ages, focused on titles by Black authors and illustrators in honor of Black History Month. PYR's list includes titles like SHIRLEY CHISOLM IS A VERB by Veronica Chambers, illustrated by Rachelle Baker; and PREACHING TO THE CHICKENS by Jabari Asim, illustrated by E. B. Lewis; RHCB's list includes HAPPY HAIR, written and illustrated by Mechal Renee Roe; OF THEE I SING: A LETTER TO MY DAUGHTERS by Barack Obama, illustrated by Lauren Long; and many others. Complete reading lists from both groups can be viewed here on the World Read Aloud Day activity hub.
Brightly has contributed storytime videos featuring BIPOC authors to the Virtual Read-Alouds section. Videos are viewable here and include BEDTIME BONNET with Nancy Red; AT THE MOUNTAIN'S BASE with Traci Sorell; and WHO WILL YOU BE? with Andrea Pippins. Brightly is also highlighted as a LitWorld-recommended resource for finding diverse children's books.
A big thank you to our children's book colleagues for making this year's virtual World Read Aloud Day a success! Inspired to celebrate at home? Take a picture and share on social using #WorldReadAloudDay to help spread the word and celebrate February 3rd with book lovers around the world.
Posted: February 3, 2021