Chanel Miller In Conversation with T Kira Madden via Zoom (9/3)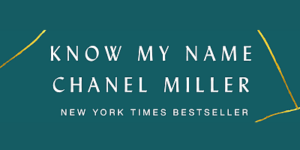 Chanel Miller, author of KNOW MY NAME (Viking/Penguin), will be in conversation with T Kira Madden, an APIA writer and photographer, at a virtual event hosted by Powell's City of Books (Portland, OR) via Zoom on Thursday, September 3 at 8:00pm (ET).
"Emily Doe," the victim of sexual assault in January 2015, emerges under her real name, Chanel Miller, to share the full story of her trauma and recovery. Emotionally honest, unwavering, powerful, and eloquent, Ms. Miller's memoir is a testament to the power of words to heal and effect change.
KNOW MY NAME charts a new path for victims: Embracing vulnerability, refusing to back down, and courageously challenging corrosive systems to live a full and beautiful life. No longer Emily Doe, Chanel Miller reclaims her identity to let victims know they are never alone and gives them the confidence to be free of the shame that was never theirs to carry.
!! As a reminder, if you are posting to a personal or other non-PRH account you must include the hashtag #TeamPRH !!
Posted: September 2, 2020