Charles Baxter to Discuss His Novel THE SUN COLLECTIVE via Zoom (12/15)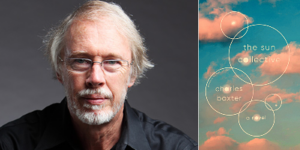 Charles Baxter, author of THE SUN COLLECTIVE (Pantheon), will be in conversation with Writers @ Grinnell Director Dean Bakopoulos at a virtual event hosted by Prairie Lights Books via Zoom on Tuesday, December 15 at 7:00 pm (ET).
A vision of modern American society and the specters of the consumerism, fanaticism, and fear that haunt it, THE SUN COLLECTIVE captures both the mystery and the violence that punctuate our daily lives.
Once a promising actor, Tim Brettigan has gone missing. His father thinks he may have seen him among some homeless people. And though she knows he left on purpose, his mother has been searching for him all over the city. She checks the usual places—churches, storefronts, benches—and stum­bles upon a local community group with lofty goals and an enigmatic leader who will alter all of their lives. Christina, a young woman rapidly becoming addicted to a boutique drug that gives her a feeling of blessedness, is inexplicably drawn to the same collective by a man who's convinced he may start a revolution. As the lives of these four characters intertwine, a story of guilt, anxiety, and feverish hope unfolds in the city of Minneapolis.
Charles Baxter is the author of the novels The Feast of Love (nominated for the National Book Award), First Light, Saul and Patsy, Shadow Play, The Soul Thief, and The Sun Collective, and the story collections Believers, Gryphon, Harmony of the World, A Relative Stranger, There's Something I Want You to Do, and Through the Safety Net. His stories have been included in The Best American Short Stories. Baxter lives in Minneapolis and teaches at the University of Minnesota and in the MFA Program for Writers at Warren Wilson College.
!! As a reminder, if you are posting to a personal or other non-PRH account you must include the hashtag #TeamPRH !!
Posted: December 10, 2020