Chat Virtually with Lora Beth Johnson about Her First Book via Instagram Live (7/1)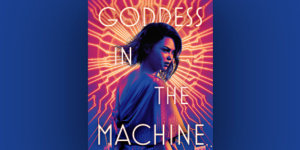 Lora Beth Johnson, author of GODDESS IN THE MACHINE (Razorbill), will be featured in a virtual chat hosted by Square Books Jr. via Instagram Live on Wednesday, July 1 at 6:00 pm (ET).
In GODDESS IN THE MACHINE, Andra wakes up from a cryogenic sleep 1,000 years later than she was supposed to, forcing her to team up with an exiled prince to navigate an unfamiliar planet in this smart, thrilling sci-fi adventure.
As an only child, Lora Beth Johnson grew up telling herself stories and reading past her bedtime. She spent her adulthood collecting degrees, careers, and stamps in her passport before realizing her passion for creating fictional worlds. When she's not writing, she's teaching college English and learning new languages. She lives in Davidson, NC with her little roommate, Colocataire the Yorki-poo. GODDESS IN THE MACHINE is her first book.
!! As a reminder, if you are a PRH employee posting to a personal or other non-PRH account, you must include the hashtag #TeamPRH !!
Posted: June 30, 2020