Check Out New Read it Forward Podcast "The Adaptables" – Listen and Share!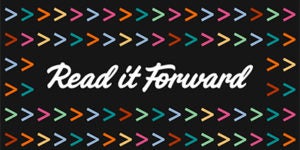 Read It Forward's newest podcast, The Adaptables, just launched on Apple Podcasts. "We love to watch what we read" is the slogan for this creative production that dives into readers' favorite book-to-screen adaptations. Beginning with Little Fires Everywhere on Hulu, listen to Emma Shafer and Abbe Wright chat with authors and insiders, including LITTLE FIRES EVERYWHERE author Celeste Ng herself, about the makings of a great adaptable book, why watching and reading are important self-care rituals, and more.
With so many people home bound now, the hope is that The Adaptables can offer some quality entertainment to help pass the time and make things a little easier.
The Read it Forward team would greatly appreciate any and all social sharing PRH colleagues can do—even if it's just some love from your personal accounts. #TeamPRH
Episodes 1–3 are live and ready to listen to. Warning: there will be little spoilers everywhere, so Emma and Abbe suggest watching the featured show first!
Look at the range of Penguin Random House books mentioned by episode below:
Episode 1:
Episode 2:
Episode 3:
Posted: March 19, 2020