Check Out This Year's Eisner Awards Winners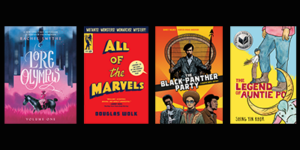 The Will Eisner Comic Industry Awards, commonly shortened to the Eisner Awards, are prizes given for creative achievement in American comic books, sometimes referred to as the comics industry's equivalent of the Academy Awards. Four Penguin Random House authors and titles took home this much coveted prize at this year's 34th Annual Will Eisner Comic Industry Awards, held July 22 at the Bayfront San Diego Hilton during Comic-Con!
#1 New York Times bestselling author Rachel Smythe took home the Eisner Award for Best Webcomic for LORE OLYMPUS (Webtoon). Lore Olympus is the most popular WEBTOON webcomic of all time, with 1.1 billion reads and 5.9 million weekly subscribers. Episodes of the webcomic are collected and published by Random House Worlds in both hardcover and trade paperback formats. Lore Olympus: Volume One published on November 2, 2021, Volume Two published July 5, 2022, and Volume Three will publish October 11, 2022.


David F. Walker and Marcus Kwame Anderson's critically-acclaimed graphicnovel THE BLACK PANTHER PARTY (

Ten Speed Press

) took home the Eisner Award for Best Reality Based Work
Shing Yin Khor won Best Publication for Teens (ages 13-17) for THE LEGEND OF AUNTIE PO by (

Kokila/Penguin Random House

)
ALL OF THE MARVELS by Douglas Wolk (

Penguin Press

) took home Best Comics-Related Book
CONGRATULATIONS to all of our award winning authors and publishers!
Find more about this year's Eisner Awards here.
Posted: July 28, 2022