Chelsea Clinton Pens Children's Picture Book About Thirteen Inspirational Women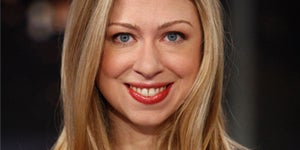 Penguin Young Readers will publish SHE PERSISTED, a new picture book written by Chelsea Clinton and illustrated by Alexandra Boiger, that celebrates strong, inspirational women who have embodied the spirit of persistence throughout American history. The book will be published on May 30, 2017 by Philomel Books.  
Inspired by Elizabeth Warren's refusal to be silenced in the Senate, SHE PERSISTED introduces tiny feminists, mini-activists, and kids ready to take on the world to thirteen American women who never took no for an answer, including: Harriet Tubman, Helen Keller, Clara Lemlich, Nellie Bly, Maria Tallchief, Claudette Colvin, Ruby Bridges, Margaret Chase Smith, Sally Ride, Florence Griffith Joyner, Oprah Winfrey, and Sonia Sotomayor–and a special cameo by one more.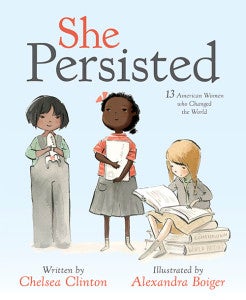 Chelsea Clinton said, "I wrote this book for everyone who's ever wanted to speak up but has been told to quiet down—for everyone who's ever been made to feel less than. The thirteen women in She Persisted all overcame adversity to help shape our country—sometimes through speaking out, sometimes by staying seated, sometimes by captivating an audience. With this book, I want to send a message to young readers around the country—and the world—that persistence is power."
Ms. Clinton is the author of the New York Times bestselling IT'S YOUR WORLD: Get Informed, Get Inspired & Get Going! and, with Devi Sridhar, Governing Global Health: Who Runs the World and Why? She is also the Vice Chair of the Clinton Foundation, where she works on many initiatives including those that help to empower the next generation of leaders. You can follow her on Twitter at @ChelseaClinton or on Facebook at www.facebook.com/chelseaclinton.
Alexandra Boiger grew up in Munich, Germany, and studied graphic design before working as an animator in England and then at Dreamworks SKG in the United States. She is the author and illustrator of Max and Marla, and the illustrator of more than twenty picture books including the Tallulah series, and When Jackie Saved Grand Central. She has received the Parents' Choice Award and has been featured on numerous state reading lists.
Posted: March 16, 2017