Chris Jackson One of TIME's "12 Leaders Who Are Shaping the Next Generation of Artists"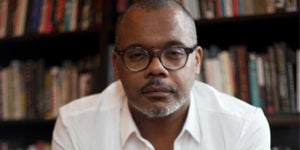 The Art of Optimism, a TIME Magazine special issue edited by Ava Duvernay, on newsstands for two weeks beginning February 8, features an article, "12 Leaders Who Are Shaping the Next Generation of Artists," in which Chris Jackson, Publisher and Editor in Chief, One World, is one of the dozen individuals recognized.
As TIME editors point out, "The art that reaches our eyes and ears does not find its way there by accident." It often takes "champions of culture who are creating platforms for the artists who are opening our minds and changing our world today."
Here are excerpts from the portion of the article devoted to Jackson:
Chris Jackson publishes books. But what moves him most can't be found within their pages. More than anything, the publisher and editor in chief of the imprint One World is moved when he sees the work his books do to bring people together.
His goal is not to acquire any book by a writer from a marginalized background for diversity's sake alone. "The idea that the imprint is committed to diversity is kind of absurd," Jackson says. "We want to reflect the world we live in." The imprint allows writers to tell subversive stories in an authentic way, without what he calls "white filtering," or couching stories in ways that feel comfortable or familiar to white readers.
While it's an editor's job to obsess over the beauty and precision of language—and Jackson says he does this too—he wants more from his books than their aesthetic value. And it's paying off: Ta-Nehisi Coates' BETWEEN THE WORLD AND ME won the National Book Award; Eddie Huang's FRESH OFF THE BOAT is now an ABC sitcom; Bryan Stevenson's JUST MERCY is set to become a feature film in 2020. "In this moment when a lot of people are feeling despair," he says, "I get to participate in imagining what can be.'"
To read the complete article, click here.
Posted: February 8, 2019