Christopher Myers Accepts the 2019 Children's Literature Legacy Award for his Father, Walter Dean Myers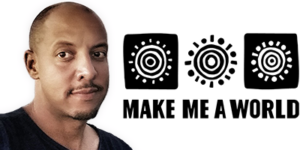 Walter Dean Myers is the posthumous recipient of the 2019 Children's Literature Legacy Award honoring an author or illustrator, published in the United States, whose books have made a substantial and lasting contribution to literature for children. His numerous and award-winning works include "Fast Sam, Cool Clyde, and Stuff" (Viking, 1975) and "On a Clear Day" (Ember, 2015).
The award is administered annually by the Association for Library Service to Children (ALSC), a division of the American Library Association (ALA), and Walter Dean Myers was named as this year's recipient during the ALA Midwinter Meeting & Exhibits in Seattle, Washington on January 28, 2019. The award was celebrated and accepted by Myers' son, Christopher, during the ALA Annual Meeting & Exhibits in Washington, DC on June 23, 2019.
Christopher Myers, who serves as the Creative Director for Make Me a World, a new Random House Children's Book imprint launching its first titles in Fall 2019, accepted the award in a moving speech on his father's behalf. A widely acclaimed artist and writer, Christopher worked with his father on projects such as JAZZ and BLUES JOURNEY, both published by Holiday House.
"With vast literary talent and deep empathy for young readers, Walter Dean Myers created shelves full of books over the course of his half-century career that were groundbreaking, distinctive, and vital," said Children's Literature Legacy Award Committee Chair Andrew Medlar.
Born in West Virginia in 1937, Myers was raised in Harlem where he "found solace in books." After serving in the U.S. Army he began writing in the 1960s, eventually publishing more than 100 titles for young people. He lived with his family for many years in Jersey City, New Jersey, passing away in 2014.
A prolific and versatile writer who exemplified excellence in many forms, including biography, fiction, history, and poetry, Myers brought profound insight to his vivid portrayals of black culture and black lives, especially those of boys and young men, capturing their language and concerns, struggles and successes. With a particular brilliance for humor and curiosity, his work reminds readers, without preaching, that they always have choices.
Posted: July 2, 2019