Christopher Myers Wins CBC Diversity Outstanding Achievement Award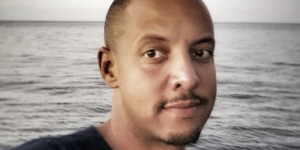 Christopher Myers, author, illustrator and head of Make Me a World, an imprint at Random House Children's Books, has been honored by the Children's Book Council (CBC) Diversity Committee as one of the winners of the 3rd Annual CBC Diversity Outstanding Achievement Awards. These awards are given annually to professionals or organizations in the children's publishing industry who have made a significant impact on the publishing and marketing of diverse books, diversity in hiring and mentoring, and efforts that create greater awareness with the public about the importance of diverse voices.
The winners were announced at the CBC Virtual Annual Meeting in New York City on September 17, and a virtual conversation with the winners will take place in November, moderated by Andrea Davis Pinkney (check back on Igloo for more details and a link to a video of this conversation). The winners will each select an organization to receive one thousand dollars' worth of children's books in their name.
Ryan Mita, CBC staff liaison to the CBC Diversity Committee, said: "The committee had both the joy and responsibility of reviewing nominations from across the children's publishing. In making their selections, the committee is shining a light on five people who are leaders in the diversity movement through their passionate dedication to change in the children's book community."
Past CBC Diversity Outstanding Achievement Awards winners from Penguin Random House include Jen Loja, President and Publisher of Penguin Young Readers; Phoebe Yeh, VP & Co-Publisher of Crown Books for Young Readers/Random House Children's Books; Namrata Tripathi, VP and Publisher of Kokila, an imprint of Penguin Young Readers; and Cheryl Willis Hudson and Wade Hudson, creators of WE RISE, WE RESIST, WE RAISE OUR VOICES (Crown Books for Young Readers).
Posted: September 26, 2020