Chuck Klosterman to Discuss His Story Collection via Zoom (7/15)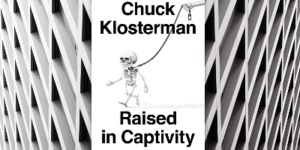 Chuck Klosterman, author of RAISED IN CAPTIVITY (now available in paperback from Penguin Books), will discuss his story collection at a virtual event hosted by Books Are Magic via Zoom on Wednesday, July 15, at 7:00pm (ET).
Funny, wise and weird in equal measure, RAISED IN CAPTIVITY is one of the most original and exciting story collections in recent memory. It has been called "a fever graph of our deepest unvoiced hopes, fears and preoccupations. Ceaselessly inventive, hostile to corniness in all its forms, and mean only to the things that really deserve it, it marks a cosmic leap forward for one of our most consistently interesting writers."
Chuck Klosterman is the bestselling author of eight nonfiction books (including Sex, Drugs, and Cocoa Puffs; I Wear the Black Hat; But What If We're Wrong?; and Killing Yourself to Live) and two novels (Downtown Owl and The Visible Man). He has written for The New York Times, The Washington Post, GQ, Esquire, Spin, The Guardian, The Believer, Billboard, The A.V. Club, and ESPN. Klosterman served as the Ethicist for The New York Times Magazine for three years, appeared as himself in the LCD Soundsystem documentary Shut Up and Play the Hits, and was an original founder of the website Grantland with Bill Simmons.
!! As a reminder, if you are posting to a personal or other non-PRH account you must include the hashtag #TeamPRH !!
Posted: July 14, 2020