CITY OF DOGS Author & Photographer Kick Off NYC Tour In Conversation with Jacqueline Woodson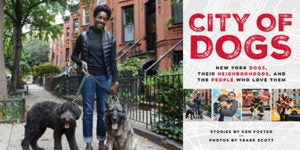 Ken Foster and photographer Traer Scott kicked off their five-borough tour for CITY OF DOGS: New York Dogs, Their Neighborhoods, and the People Who Love Them, just on-sale from Avery, with a fantastic event at Greenlight Bookstore in Brooklyn. The two were in conversation with fellow Penguin Random House author Jacqueline Woodson, who is featured in the book with her dogs, Toffee and Shadow (you can check out an excerpt of Jacqueline's chapter on The Bark).
If you missed the Brooklyn CITY OF DOGS event, you can still catch Ken & Traer at Boris & Horton Dog Cafe in the East Village on 10/23, Comic Book Jones in Staten Island and Kew & Willow Books in Kew Gardens on 11/3, or Bronx Barx on 11/4. Furry friends are welcome to attend all events! The book and canines will be featured in an upcoming edition of The New York Times. Stay tuned!
Posted: October 19, 2018