Civil Rights Icon Ruby Bridges' New Book Published by Delacorte Press, On Sale Today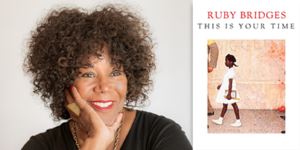 From civil rights activist and icon Ruby Bridges comes a powerful new book, THIS IS YOUR TIME, published by Delacorte Press today, November 10. This is the first book from Bridges in over twenty years and was released just a few days prior to the sixtieth anniversary of her becoming the first Black student to attend the all-white William Frantz Elementary School in New Orleans on November 14, 1960, as a six-year-old.
Inspired by the recent wave of activism for racial justice led by young people, Bridges has penned a powerful letter of encouragement to readers, recounting her experience integrating the New Orleans public school system and culminating in a call to action for a new generation of young activists and adults to unite. The text is accompanied by black-and-white photographs from the 1960s, as well as of images of what is happening in the nation and around the world today.
The beautifully designed volume features jacket art selected by Bridges, which shows a portion of Norman Rockwell's 1964 painting The Problem We All Live With—considered an iconic image of the civil rights movement—featuring six-year-old Ruby escorted by federal marshals past a wall smeared with racist graffiti and the juice of a thrown tomato. The painting originally appeared as a centerfold in the January 14, 1964, issue of Look magazine.
A now-viral illustration depicts Vice President-elect Kamala Harris walking next to a wall with her shadow transformed into Ruby Bridges' silhouette from Rockwell's painting. The drawing, created by San Francisco-based artist Bria Goeller, is being shared widely on social, including by Bridges herself.
Bridges has been on the national media circuit to promote her book, including Late Night with Trevor Noah, the TODAY Show, and NPR's Weekend Edition . She's also slated to do The View, and has upcoming interviews with People magazine, USA Today and Glamour.com.
Mahogany Books presents a virtual discussion with Ruby Bridges about THIS IS YOUR TIME tonight at 7:00 p.m. via Crowdcast To register, click here.
Ruby's honest and impassioned words, imbued with love and grace, serve as a moving reminder that "what can inspire tomorrow often lies in our past." Her book will electrify people of all ages as the struggle for liberty and justice for all continues and the powerful legacy of Ruby Bridges endures.
She also narrates the audiobook edition of THIS IS YOUR TIME, available from Listening Library.
Ruby Bridges is a civil rights activist who at the age of six was the first Black student to integrate an all-white elementary school in New Orleans. She was born in Mississippi in 1954, the same year the United States Supreme Court handed down its landmark decision ordering the integration of public schools. Her family later moved to New Orleans, where on November 14, 1960, Bridges began attending William Frantz Elementary School, single-handedly initiating the desegregation of public education in New Orleans. Her walk to the front door of the school was immortalized in Norman Rockwell's painting The Problem We All Live With, in Robert Coles's book The Story of Ruby Bridges, and in the Disney movie Ruby Bridges. THIS IS YOUR TIME is her first book in over twenty years, following the publication of her award-winning autobiography, Through My Eyes.
She established the Ruby Bridges Foundation to provide leadership training programs that inspire youth and community leaders to embrace and value the richness of diversity. Bridges is the recipient of numerous awards, including the NAACP Martin Luther King Award, the Presidential Citizens Medal, and honorary doctorate degrees from Connecticut College, College of New Rochelle, Columbia University Teachers College, and Tulane University.
Posted: November 10, 2020