Clarkson Potter's Doris Cooper Helps Alison Roman Create NOTHING FANCY: Unfussy Food for Having People Over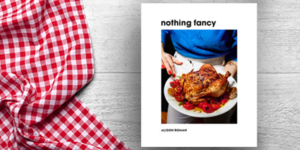 Alison Roman's NOTHING FANCY: Unfussy Food for Having People Over, published by Clarkson Potter today, Tuesday, October 22, is the book you want to have on hand for an unexpected weeknight meal with a neighbor or a weekend dinner party with fifteen of your closest friends—either way and everywhere in between; having people over is supposed to be fun, not stressful. This abundant collection of all-new recipes—heavy on the easy-to-execute vegetables and versatile grains, paying lots of close attention to crunchy, salty snacks, and with love for all the meats—is for gatherings big and small, any day of the week.
In this Three Questions for an Editor Igloo interview, Doris Cooper, SVP & Editor in Chief, Clarkson Potter, talks about how this book came to be, the nature of their editor-author process, and the ways in which she thinks NOTHING FANCY will resonate with readers.
What was the genesis of the NOTHING FANCY book concept and approach?
Over dinner one night when Alison had just completed the second leg of her Dining In tour, she said she wanted to write an entertaining book. She quickly followed up with the disclaimer "Entertaining but not entertaining." Her goal was to reinvent the category, where books can be tricky and appear old-fashioned, and to drive it in a new direction, away from the notion of something pressured and performative. "Entertaining is just having people over," she said that night, "but with more food." That was the seed of this book and its North Star.
In what ways do you think NOTHING FANCY will resonate with readers?
"Unfussy food, unfussy vibes, and the permission to be imperfect" is Alison's mantra. It's a universally appealing spirit in which judgments are implicitly absent and sharing food with friends is both a means and an end. NOTHING FANCY is also a book for our times. We talk a lot in our editorial meetings about how the cultural zeitgeist is changing, from the often expensive and orchestrated experience of eating out in favor of the intimacy and analog experience of having people in your home—and sharing what you've made or made together. It's a salve for what can feel like an uncertain world. Making something, making anything, really, whether a cheese plate or a rib roast or a batch of martinis or a very good lasagna or a cookie, is a counterbalance to our digital lives. The mission of NOTHING FANCY is simply to inspire people to make stuff for their friends.
How would you describe your editor-author process working with Alison on this book?
Alison's writing is exceptionally evocative and her voice, which can be both soft and sharp, is also vulnerable. That may be her secret sauce, what makes her so relatable to readers. With each draft of the manuscript, I found myself asking her to write more, to invent more surface area for her prose. Ultimately, she had the great idea to sprinkle mini essays throughout the book. One is called "My Favorite Bar Is a Baked Potato Bar," an ode to the lowly, underrated baked potato in which Alison writes of waiting with her mom for the perfect, impossibly fluffy on the inside, shatteringly crispy on the outside baked potato of her childhood to come out of the oven. Embedded in this lovely memory is the brilliantly simple party hack of setting up a baked potato bar. Readers will find as much joy and entertainment curled up with Alison's stories as they will in the kitchen with her recipes.
FEATURED RECIPE:
Roasted Squash with Yogurt and Spiced, Buttered Pistachios
Serves 4 to 6
1 winter squash, such as Red Kuri, kabocha, or acorn, sliced into 1½-inch wedges (1½–2 pounds)
3 tablespoons olive oil
Kosher salt and freshly ground black pepper
6 tablespoons unsalted butter
¼ cup raw pistachios, finely chopped
½ teaspoon ground cumin
½ teaspoon ground turmeric
Pinch of ground cinnamon
Pinch of crushed red pepper flakes (optional)
Flaky sea salt
1 cup full-fat Greek yogurt
2 tablespoons fresh lemon juice
1) Preheat the oven to 425°F.
2) Remove the seeds from the squash if you want (I leave them in, as I enjoy their crunchy texture as they roast, but whatever you like!) and toss the squash on a rimmed baking sheet with the olive oil. Season with salt and pepper, and roast until the squash is totally tender and golden brown with caramelized bits, 40 to 50 minutes.
3) Meanwhile, melt the butter in a small pot over medium heat. Cook, swirling occasionally, until the butter has browned and started to foam, 3 to 5 minutes. Remove from the heat and add the pistachios, cumin, turmeric, cinnamon, and red pepper flakes, if using. Season with flaky salt and set aside.
4) Combine the yogurt and lemon juice in a small bowl and season with salt. Spoon the yogurt sauce onto the bottom of a large serving platter or bowl. Arrange squash nestled into each other and spoon the buttered pistachios over everything. Top with flaky salt and a grind of black pepper or a pinch of red pepper flakes.
DO AHEAD Squash can be roasted several hours ahead of time, wrapped loosely, and stored at room temperature. It doesn't need to be reheated before serving, but you can if you like.
NOTE Most winter squash works here, but my favorites are the larger, thick-skinned varieties such as Red Kuri, kabocha, and acorn, because you can eat the skin (and the seeds!). If using something like a butternut or honey nut, slice it into 1-inch-thick slices rather than wedges.
Alison Roman is a contributor at Bon Appétit and The New York Times. Her work has been featured in GQ, Cherry Bombe, The Cut, and Lucky Peach. The author of Dining In and Lemons, a Short Stack Edition, Alison has worked professionally in kitchens such as New York's Momofuku Milk Bar and San Francisco's Quince. A native of Los Angeles, she lives in Brooklyn.
Posted: October 22, 2019