Claudia Fleming's Acclaimed Dessert Book Ushered Back Into Print by Executive Editor Pamela Cannon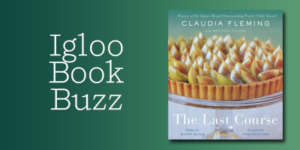 In the spirit of the coming holiday season, our new Igloo Book Buzz selection is THE LAST COURSE, published by Random House on November 12. Hailed as "the greatest dessert book in the history of the world" by Bon Appétit, a beautiful new edition features 175 timeless recipes from Claudia Fleming, a renowned name in the pastry world, acclaimed for having set an industrywide standard at New York City's Gramercy Tavern with her James Beard Award–winning desserts. Beautifully illustrated with more than eighty color photographs throughout, THE LAST COURSE is a timeless collection filled with original recipes that will inspire dessert enthusiasts everywhere.
Executive Editor Pamela Cannon shares, "THE LAST COURSE was one of the very first cookbooks I acquired and edited, now nearly twenty years ago. Claudia Fleming had made a name for herself in the food world and beyond with the remarkable desserts she created at Danny Meyer's Gramercy Tavern restaurant. There, Claudia's exacting and inventive methods and her commitment to elevating simple ingredients to an exquisite taste combination, set the new standard for American pastry.
"Over the years, many more pastry and baking books came and went. THE LAST COURSE eventually went out of print, as most books do. I had heard on numerous occasions that copies were selling on eBay for hundreds of dollars (I kicked myself for not keeping more than one copy on my kitchen shelves). I knew that this book had become, for pastry students and chefs alike, a masterclass in dessert, a key that unlocked and decoded all of the elements of the last course. It's no wonder. Her desserts are timeless. They are as essential, creative, and delicious today as they were when she first introduced them.
"We responded to the ongoing demand for THE LAST COURSE and are thrilled to usher it back into print, just in time for the holidays. Aside from a new jacket, featuring Claudia's Fig-Cornmeal Tart, we didn't change much. We didn't need to. It was pretty much perfection from the start."
Posted: November 14, 2019